By Jeffrey S. Detwiler, President and Chief Operating Officer, The Long & Foster Companies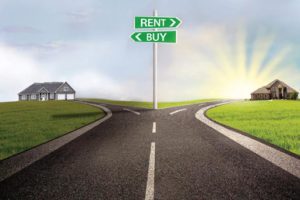 Choosing to become a homeowner, generally one of the biggest financial decisions in your life, should never be taken lightly. While homeownership lost some of its allure during the housing crisis, the 2013 National Housing Pulse survey by the National Association of Realtors showed 80 percent of consumers believe buying a home is a good financial decision. Purchasing a home is both a financial and emotional decision and one that must be made in the context of your individual circumstances. While no one knows with certainty where they will be in the future, buying a home requires long-range planning for your career and personal life.
Crunch the numbers to determine whether to rent or buy
When you first start comparing whether to rent or buy, you should consider rental rates and home values in your community. Research from Trulia in February 2014 found in East Coast cities from Richmond, Va., to northern New Jersey, it was 34 to 52 percent cheaper to buy a home than rent. The research takes into consideration mortgage rates, taxes and projected rent increases and assumes you'll stay in your home for at least five to seven years.
When comparing your monthly rent to your potential mortgage payments, you should also take into consideration the other costs of homeownership, including condominium or homeowner association fees, property taxes, homeowners insurance and maintenance costs. Conversely, homeowners can take advantage of tax deductions not available to renters, and paying off your mortgage helps build wealth and results in an asset you can live in or sell in the future.
Consider the emotional aspect of becoming a homeowner
For most people, buying a home isn't just about money. If you hope to buy a home to live in long-term and enjoy the pride of ownership, you need to think about how ready you are to commit to a community and property. If you're uncertain where you want to live or know that you want to change careers or could be relocated, renting a home may be the better choice for you.
Many homeowners appreciate that they can do anything they want to their home without requesting a landlord's permission. If you love the idea of personalizing your space or want to take on the challenge of renovating, you're ready for homeownership. If you're less convinced that you want to complete do-it-yourself projects but want to enjoy a sense of permanence in your home, consider buying a new home or a condominium where some maintenance tasks are handled by the condominium association.
For many, buying a home is tied to establishing a family and settling into an area with good schools and recreational amenities. For others, buying property in an urban area guarantees continued easy access to cultural amenities and nightlife.
Assess your financial readiness for homeownership
If you're emotionally ready to settle into a home, you need to match your vision for the future with the reality of your finances. While lending standards vary, there are common guidelines borrowers are required to meet. Generally, you need to show a lender that you have the ability to repay your mortgage on time. Mortgage lenders also will review your credit, income, assets, job history, tax returns and debt-to-income ratio before approving you for a loan. They'll also likely check your rental payment history for the past 12 to 24 months.
Establishing a strong credit history and a credit score of 720 or higher will help you qualify for the lowest mortgage rates. You can evaluate your financial situation by obtaining your free annual credit report at annualcreditreport.com and checking for errors and negative information.
To increase your chances of a mortgage approval, save money for a down payment. You should also try to reduce your debt so your minimum monthly payments on recurring debt and your prospective mortgage payment (including principal, interest, property taxes and homeowners insurance) are no more than 43 percent of your gross monthly income.
Balance expectations and reality
One lesson many homeowners face is that what they dream of owning isn't always what they can afford to own or what they can find on the market. A lender will qualify you based on the financial picture you present on paper, so it's important to establish a personal budget for your mortgage based on what you can afford to pay. If you plan to start a family and want one spouse to work less, you should take that into account when signing on for a mortgage payment. If you want to vacation often or continue your weekly golf game, you'll need to work that into your budget, too.
As one of your first steps in becoming a homeowner, you should meet with a real estate professional. Your agent not only can help with your home search, but also with finding a lender with a great track record of competitive rates, as well as exceptional customer service. After receiving mortgage lender referrals, you should meet with your selected lender to get preapproved for a loan based on your credit profile. Once you have an idea of your price range, you can work with a real estate agent to find properties that meet your needs and desires. Unless you have an unlimited budget, you may have to compromise on your expectations. A good real estate agent can help you work through your list of priorities and show you homes and communities that work for you. You can also choose to wait and continue to rent while building up your savings and increasing your income so you can afford to buy what you truly want.
Plan for future sale or rent
Even if you believe you're ready to buy a home and stay in it for a decade, you never know when a job opportunity or life change will mean your "forever" home no longer works for you. To prepare for the possibility of moving earlier than planned, you should always look at any home with an eye toward its future resale value or investment potential. If you purchase a home that would appeal to renters, such as a home near public transportation or near a college campus, you're more likely to be able to rent it in the future. Those same attractive features could also make your property lucrative to sell.
If you've decided to become a homeowner, Long & Foster Real Estate can help you find and finance a home. Representatives of Prosperity Home Mortgage, LLC, part of The Long & Foster Companies, are available in most Long & Foster offices in the Mid-Atlantic and Northeast regions to assist prospective buyers with financing. All Long & Foster Realtors also have an array of local, trusted resources such as moving companies and contractors that can help make your move as smooth as possible. The company also has a property management division to assist homeowners who decide to turn their home into an investment property. Working with experienced professionals who can guide you along the path to homeownership makes the transition from renter to homeowner easier.
About the author
Jeffrey S. Detwiler is president and chief operating officer of The Long & Foster Companies, parent company to Long & Foster Real Estate, Inc., the largest independent real estate company in the United States, and Prosperity Home Mortgage, LLC, a full-service mortgage banker. From extensive, neighborhood-level market information to Long & Foster's core services companies, providing mortgage, settlement, insurance and property management services in a streamlined manner, Long & Foster offers the services necessary to make today's real estate transactions manageable for owners and investors.
*The information contained in this article is not intended to be and does not constitute financial or investment advice.