Resurgence is occurring in today's luxury housing market
By Jeffrey S. Detwiler, President and Chief Operating Officer of The Long & Foster Companies
Luxury real estate is making a comeback in a big way. A pretty bold statement, but many signs are pointing to just that. Over the past couple of years, we've been fortunate to see the beginning of a real recovery in the residential real estate market throughout many areas within the Mid-Atlantic and Northeast regions of the United States. We have kept a close eye on those conditions affecting the residential housing market to watch for signs of recovery—particularly in the luxury market, which has been slower to come back around.
Encouragingly, there is a deluge of available statistics—national, regional, and local—that point to a clear sign that activity in the luxury market is picking up once again. In recent months, the luxury market has benefited from stronger sales and a reduced inventory, shifting the market toward a more balanced relationship between buyers and sellers. A multitude of indicators, both nationally and in the Mid-Atlantic, are showing that the health of the market for luxury homes is improving.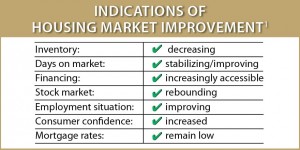 REAL ESTATE RECOVERY TAKES HOLD
During the recent economic downturn, the housing market was hit particularly hard. Demand for homes evaporated and distressed sales —such as short sales and foreclosures—flooded the market, which had an adverse impact on the real estate market both nationally and in the Mid-Atlantic region. This imbalance between the number of buyers and sellers affected home sellers in particular—creating an environment characterized by lower listing prices, less negotiation leverage, and an extended time-frame to sell a home.
Many of the indicators used to determine the health of the market are gaining momentum. This has been particularly evident in low-to middle-priced housing, a segment of the market that has recently seen a major decline in available inventory, and has experienced homes selling for closer to asking price in a shorter time frame when priced appropriately. Additionally, strengthening economic conditions—including an improvement in employment, increasing consumer confidence, and historically low mortgage rates—point to a unique opportunity in today's housing market for both buyers and sellers. Real improvement in the real estate sector is not just on the horizon, but is here at our doorsteps.
MOVE-UP BUYERS ARE DRIVING POSITIVE TRENDS IN LUXURY
What may be surprising to many is that market stability, price appreciation, and balanced inventory supplies in more affordably priced homes are a catalyst for growth in the luxury real estate market. In order for prospective luxury home buyers to consider "moving-up", they must be comfortable and assured that the overall housing market is strong and economic conditions are positive. They need to feel confident in making a major investment in real estate. In 2012, data from areas across the Mid-Atlantic and Northeast regions and nationally indicates a movement toward a strengthening luxury housing market, supported by stronger market fundamentals in the general real estate market and the broader economy. These positive trends have "trickled up" into the luxury real estate market—which is now seeing tightening inventories of available homes that are beginning to sell at a faster rate.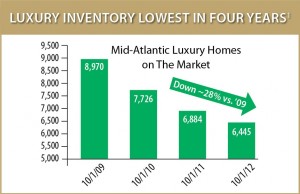 LUXURY INVENTORY DOWN TO LOWEST LEVEL IN FOUR YEARS
So could now be the time to consider jumping into or moving up in the luxury housing market? If recent inventory figures for luxury homes are to be used as an indicator of the temperature of the market, the answer is yes. A decrease in inventory is generally a good sign that a market is performing well or improving, particularly during this period of nationwide economic rebound.
As of late 2012, major housing markets across the country are experiencing low inventory levels, a welcome sign. Luxury inventory throughout the Mid-Atlantic region has dropped considerably since October 2010 when there were 7,726 active listings; as of October 2012, there were 6,445 active luxury listings. These inventory figures suggest a much more balanced relationship between buyers and sellers in the luxury space, as properties are selling at a faster pace, at higher prices, and sometimes with multiple offers.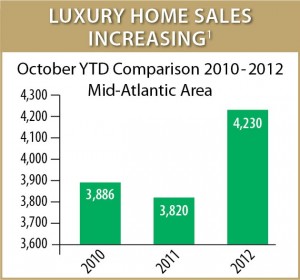 SALES OF LUXURY HOMES ON THE RISE
Data from the National Association of Realtors' "Existing Home Sales Report" released in November 2012 showed that nationwide sales of homes priced over $1 million dollars increased 44.1 percent over the same period in 2011. In the Mid-Atlantic, luxury home sales year to date in 2012 are up nearly 11 percent over 2011.
And in some areas, including the Mid-Atlantic, luxury homes are on the market and selling at a considerably faster pace than in years past. For example, the year to date average days on the market for these homes in 2009 was 118, compared to more recently, where the year to date average has dropped to 106 days. It is a welcome improvement for the luxury market to see homes moving at a faster pace.
It is clear that rising sales and the lowest inventory levels in four years have created a recipe for increased activity and movement in the luxury housing market.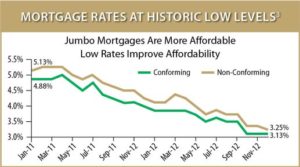 CREDIT LOOSENS FOR LUXURY BUYERS
Another improving fundamental for luxury buyers are mortgage interest rates that continue to hover near record lows—including rates for jumbo loans often used to purchase many higher-end properties. A jumbo loan, which makes it easier for ahome buyer to compete with other buyers and access capital to purchase pricier properties, refers to a mortgage loan over $417,000 in most areas of the country and over $625,500 in higher-cost areas.
During the economic downturn, the market for jumbo loans all but shut down. Many lenders and investors who bought jumbo loans pulled back after 2008. As credit standards tightened and the overall requirements for loan funding became difficult to achieve, these mortgages became scarce. Today, this type of loan is once again becoming more accessible to qualified buyers.
Additionally, recent signs are pointing to an increase in demand for this type of mortgage. The Wall Street Journal recently reported that homes sold in major metropolitan areas with a loan of $1 million or more were up 28 percent in October 2012, compared to last year.2 The Journal analysis also found that home sales specifically using a jumbo mortgage saw year-to-year growth of 7.9 percent through September 2012. This is a positive trend for the Mid-Atlantic housing market, which includes some of the nation's highest priced homes.
At the same time, the interest rates for jumbo mortgages have become much more affordable over the last two years, with a current rate decrease of nearly 2 percent over January 2011 figures.
CHOOSE YOUR PARTNERS WISELY
With swiftly-moving housing market dynamics, we recognize the importance of supporting our clients from contract to closing and beyond. The Long & Foster family of companies is well-coordinated to provide a total homeownership experience for luxury buyers and sellers that far surpasses our competitors—which is why we are the #1 seller of luxury properties throughout the Mid-Atlantic region.
Our dedication to and knowledge of the luxury market is evidenced through the power of our Extraordinary Properties brand and our affiliation with Christie's International Real Estate (CIRE)4 and Luxury Portfolio International. We are the largest affiliate in the CIRE network, and recently expanded our exclusive affiliation territory with Christie's to further our commitment to providing luxury clients with the very best in real estate services. Further, with a family of services that encompasses mortgage, insurance, settlement, and property management services, buyers and sellers have access to a powerful, experienced team that can assist with everything that comes with buying, selling, financing, and owning luxury or investment property.
Choosing the right partner for success will not only help you overcome any market challenges that you may encounter, but it will also bring to the table the experience and expertise that you need to help you reach your long-term homeownership and investment goals.
About the author
Jeffrey S. Detwiler is president and chief operating officer of The Long & Foster® Companies, parent company to Long & Foster Real Estate, Inc., the largest independent real estate company in the U.S., and Prosperity Mortgage, a joint venture with Wells Fargo. From extensive, neighborhood-level market information to Long & Foster's core services companies—providing mortgage, settlement, insurance and property management services in a streamlined manner—Long & Foster offers the services necessary to make today's real estate transactions manageable for owners and investors.
1 Data is based on sale and listing data of major Mid-Atlantic metropolitan areas including: Philadelphia, Wilmington, Baltimore, Washington, D.C., Roanoke, Norfolk, and Raleigh-Durham; and their surrounding counties for homes listed at or above $1,000,000 in the Washington, D.C., area and $750,000 in all other locations. Based on data supplied by local area Multiple Listing Services and their member Association(s) of REALTORS, who are not responsible for its accuracy. 2 "Lenders Loosen Up…With Luxury Buyers", The Wall Street Journal, 22 Nov. 2012. 3 Mortgage rates cited are based on historical market rates available during 2011 and 2012 and specific loan parameters. This graph is not representative of rates available to all borrowers and is included for example purposes only. As with any loan, actual mortgage rates are subject to a borrower's personal credit score, down payment, and other factors. 4 Available in select areas.