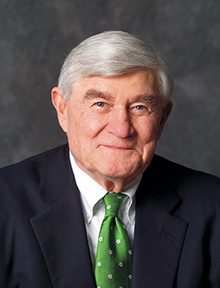 Download
P. Wesley Foster, Jr.
Founder, Chairman & CEO, The Long & Foster Companies
P. Wesley "Wes" Foster, Jr. is founder, chairman and chief executive officer of The Long & Foster Companies, which includes Long & Foster Real Estate, Inc., Prosperity Home Mortgage Company, Long & Foster Settlement Services and Long & Foster Insurance Agency, Inc. He founded Long & Foster Real Estate in 1968, along with a partner, Henry A. Long. Foster handled the residential real estate arm of the business and Long handled commercial. In July 1979, Foster became sole owner of Long & Foster, and he has grown the company to become the largest privately-owned real estate company in America. Foster is a founding member of the Leading Real Estate Companies of the World (LeadingRE) and the Realty Alliance, both of which are trade groups consisting of the nation's leading brokers.