Real Estate Firm Introduces New Brand Identity in Lead Up to 50th Anniversary
In the lead up to its 50th anniversary, Long & Foster Real Estate has refreshed its classic and iconic brand identity. After extensive market research and internal analysis, the nation's No. 1 independent real estate brand by sales volume unveiled its new logo and for-sale signs for both the traditional and luxury markets.
The real estate firm updated its color scheme, deploying a simpler and more modern palette of red and blue. It also introduced updated typography for its marketing and advertising efforts, and the company reinforced its commitment to its heartfelt tagline of Long & Foster – For The Love of Home™.
"Our traditional red, yellow and blue logo served the company well for many years, but we heard from our agents, employees and partners that it was time for a change," said Barry Redler, chief marketing officer for The Long & Foster Companies, parent company of Long & Foster Real Estate. "The redesigned branding not only pays tribute to our extensive history, with a vibrant shade of red—a color that's been synonymous with Long & Foster for over 20 years—but also elevates our look for the future with a clean design and contemporary typeface."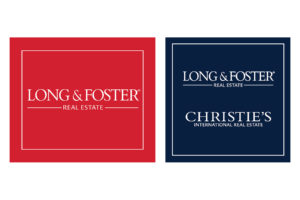 With Long & Foster's updated logo and for-sale signs, the brokerage contemporizes the look and feel of its brand, replacing the traditional crest with a simple geometric design. It also becomes more consistent with the modern technology and presentation of its website, LongandFoster.com, which celebrated its first full year of use in 2017.
In addition, the two logos and signs—for both traditional and luxury real estate—are more clearly connected with similar design elements and fonts. The luxury presentation also leverages Long & Foster's exclusive affiliation with Christie's, making a direct connection between Long & Foster's luxury listings and luxury-focused agents and the well-respected Christie's global luxury brand.
Long & Foster's luxury for-sale signs will hit the market in late 2017. Its traditional for-sale signs—which are featured on properties less than $1 million or $750,000 (depending on the market)—will be introduced beginning in January, in alignment with the company's 50th anniversary, which it will celebrate throughout 2018.
For more information about Long & Foster, visit LongandFoster.com.