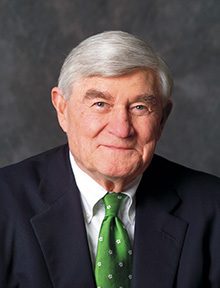 Download
P. Wesley Foster, Jr.
Founder & Chairman Emeritus, The Long & Foster Companies
P. Wesley "Wes" Foster, Jr. is founder and chairman emeritus of The Long & Foster Companies, which includes Long & Foster Real Estate, Inc., Prosperity Home Mortgage Company, Long & Foster Settlement Services, Long & Foster Insurance Agency, Inc., and Urban Pace. He founded Long & Foster Real Estate in 1968, along with a partner, Henry A. Long. Foster handled the residential real estate arm of the business and Long handled commercial. In July 1979, Foster became sole owner of Long & Foster, and he has grown the company to become the nation's No. 1 independent real estate brand*. Foster is a founding member of the Leading Real Estate Companies of the World (LeadingRE) and the Realty Alliance, both of which are trade groups consisting of the nation's leading brokers. In September 2017, The Long & Foster Companies were acquired by HomeServices of America, a Berkshire Hathaway affiliate and the nation's second-largest real estate brokerage and one of the largest providers of integrated real estate services. Read Foster's full company biography on LongandFoster.com.
*By sales volume, according to the REAL Trends 500