It seems like just yesterday that we launched the all-new LongandFoster.com! Our team was thrilled to work on this exciting project and take Long & Foster and our agents to the next level in our digital presence.
With a fresh new look, fully responsive design (optimized for all devices like tablets and smartphones), our site now presents homes for sale (and rent) in a wonderful way with big beautiful pictures and more, easier ways to contact our agents than ever before.
Over the past few months, it's been fun to watch the site traffic grow as our clients and agents get more and more visitors to their homes online.
Here's a quick look at September 2016 for the new LongandFoster.com.
More total visitors: 860,000+
More unique users: Nearly 590,000
More listings viewed: 3 million+
More mobile visitors: Almost 54%
And that's not all—since the site's launch in mid-May, over 2.2 million unique users have visited LongandFoster.com and viewed more than 10.6 million pages. The majority of these pages (about 55 percent) are listing detail pages, which are essentially the home page for each individual listing). Here's an infographic that gives you a "by the numbers" look at LongandFoster.com.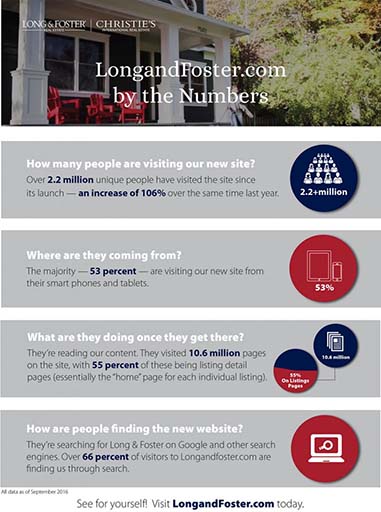 Save
Save
Save
Save