Recently, we were pleased to launch an all-new mobile app for both Android and Apple (or iOS) platforms with some super cool functionality to help buyers and sellers find a home or an agent and make great real estate decisions. Then in late May, we launched the all-new LongandFoster.com, a website designed to be fully responsive.
So which should you use—the app or the website—and what exactly is a responsive website anyway? Well, which works best for you is really a matter of choice (It's great to have both options though…), and a responsive website is simple actually. A responsive website is designed to work great on any device you choose – from a mobile phone (of all sizes) to a tablet to a desktop. The site essentially tailors itself to the device you are using for the optimal experience. Unlike a mobile version of a website (often referred to as M.dot sites), which often give you a very limited experience of a website, you generally get the full experience on a responsive website. So a website that is responsive in nature is kind of a no trade-offs way companies can offer the full website experience on various devices. This is where the user or customer really wins because they get the same experience on any device.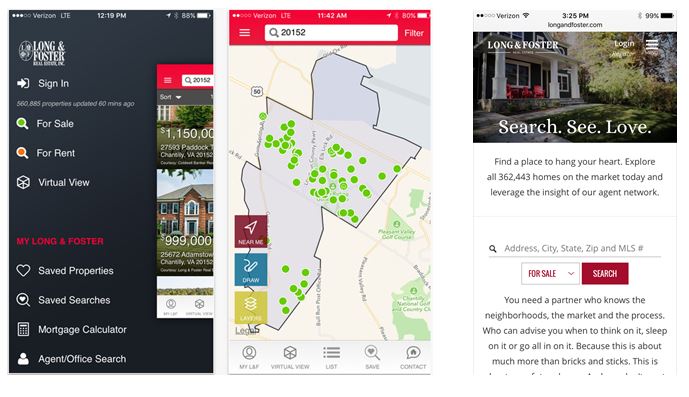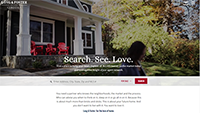 So that begs the question, how does the app fit in and which one should I choose? Again, it's really a matter of choice. Both provide great pictures, great insight on homes and maps of available properties, but with slightly different functionality. I've compiled a quick table to help you see which might work best for you.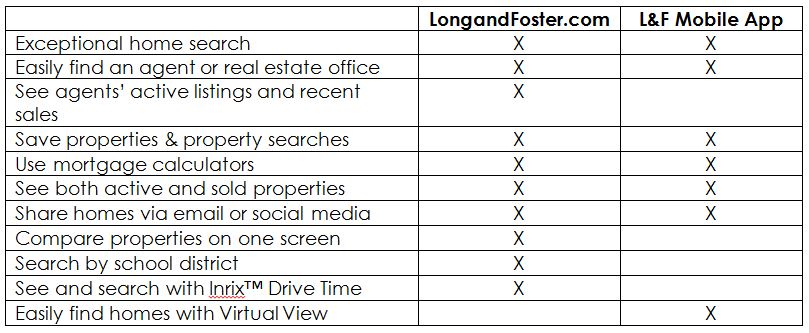 One thing to consider about the app is that because it can identify your location (or geolocation), it offers some neat functionality to enhance your home shopping experience. And that is what is referred to as "Virtual View." With Virtual View, you simply point your mobile phone (with the app active) and it will show you all nearby homes for sale in real-time. Then just tap the one you are interested in to see more. Only one warning – once you try this, it can be a bit addictive as the technology is pretty fun to use.
Whichever you choose, we've got great options for you at Long & Foster to help you find what you are looking for. Either way, I recommend you download the app so you can get a taste of the "Virtual View" technology. For me, that's a lot of fun to use when you are on the go, but I lean on the website when I have access to a large screen (gotta love those big, beautiful pictures of the homes on the market). The good news is that once you setup an account with Long & Foster, your saved properties show up on both the app and the website. Responsive website or app – Either way, our team is here to help when you are ready.
Save
Save