Winners honored at Ellie Mae Experience 2016 conference in Las Vegas
Prosperity Home Mortgage, LLC (Prosperity), a full service mortgage banker and wholly owned subsidiary of The Long &  Foster Companies, was inducted into the Ellie Mae Hall of Fame, an honor given each year to mortgage lenders and partners that have distinguished themselves through their industry leadership and innovative use of Ellie Mae technologies. Prosperity was selected as a winner in the Outstanding Efficiency and ROI category. This year's Hall of Fame winners were announced in six different categories at the 2016 Ellie Mae Experience conference, and several members of the Prosperity team were in attendance to accept the award.
"We are proud to honor our newest members of the Ellie Mae Hall of Fame," said Jonathan Corr, Ellie Mae president and CEO. "The companies recognized today represent some of the top innovators in the mortgage industry. They show market leadership and innovation through their use of Ellie Mae's all-in-one Encompass mortgage management solution and through their use, have driven compliance, quality and efficiency across their organizations. We congratulate them on this achievement and welcome them to the Ellie Mae Hall of Fame."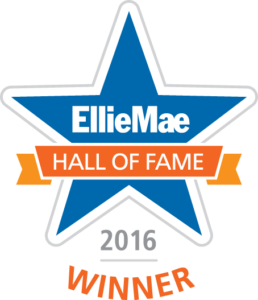 Prosperity offers a wide range of mortgage products, including fixed and adjustable rate mortgages. It is represented by more than 150 mortgage consultants and operates its own in-house processing, underwriting and closing at its five operation centers across the East Coast. Prosperity Home Mortgage also coordinates its clients' appraisals and mortgage fulfillment in-house.
Ellie Mae is a leading provider of innovative on-demand software solutions and services for the residential mortgage industry. Mortgage lenders of all sizes use Ellie Mae's Encompass® all-in-one mortgage management solution to improve compliance, loan quality and efficiency across the entire mortgage lifecycle.
"We are incredibly honored and excited to have been recognized by Ellie Mae for our efficient and effective use of their mortgage management solution," said Tim Wilson, president and CEO of Prosperity. "In everything we do, we're focused on providing personalized and exceptional service to each of our mortgage customers, and receiving awards like Ellie Mae's Hall of Fame proves our dedication to such goals and showcases how we've been able to achieve them."
For more information on the Ellie Mae Hall of Fame, visit http://experience.elliemae.com/hall-of-fame. For more information on Prosperity, visit www.PHMLoans.com.