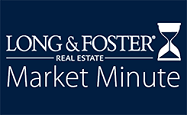 The number of homes sold in the Northern Virginia region continued its upward trajectory in February, according to the Long & Foster Real Estate Market Minute Report. Arlington County witnessed the largest jump with a 61% increase, followed by Alexandria City with a 29% rise. Median sale prices varied across the area, with Alexandria City having a 17% incline, while Arlington County had a 6% decline and Fairfax County had no year-over-year change. Inventory saw significant increases in both Arlington County and Alexandria City, though the inventory dropped throughout the rest of the area. 
The Long & Foster Real Estate Market Minute report for Northern Virginia includes the city of Alexandria, and Arlington, Fairfax, Loudoun and Prince William counties.

"The numbers don't tell the whole story," said Larry "Boomer" Foster, president of Long & Foster Real Estate. "There's been a slowdown in the number of units going under contract, but there's still plenty of people out looking and demand has increased." Foster reiterates that now is still a good time to buy or sell a home, especially for those looking to sell as new listings typically get sold very quickly. 
With the new stimulus package and vaccines becoming more readily available, people are feeling more optimistic, prompting them to go out and buy. This affects the 30-year fixed rate and the 10-year treasury rates by pushing rates higher, however it's important to note that they are still historically low. "It's still a red-hot market and people who were hesitant about putting their homes on the market due to safety concerns should feel better about listing it now," Foster said. Although rates have moved up slightly, mortgage rates are expected to stay at or around 3% for the rest of 2021.
Even with many businesses and restaurants reopening, Foster does not anticipate people moving back into more urban areas. "More people are working remotely and wanting space, so they don't have to live near the city, where it's higher-priced," Foster explained. Most metropolitan areas experienced this flight from density and since it's cheaper to live in the suburbs and exburbs, Foster predicts that businesses and restaurants will follow suit and move where the people are.
To learn more about your local market conditions, visit Long & Foster's Market Insights. You can also learn more about Long & Foster and find an agent at LongandFoster.com.