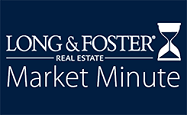 The Northern Virginia region saw a continued upward climb in units sold in December, according to the Long & Foster Real Estate Market Minute Report. Alexandria City had the biggest boost with a 38% increase, followed by both Loudoun and Prince William Counties with a 30% incline. The median sales price also rose throughout the area, aside from Arlington County which had a 1% decrease. Inventory varied with Arlington and Alexandria City seeing vast increases, while the rest of the region witnessed declines.
The Long & Foster Real Estate Market Minute report for Northern Virginia includes the city of Alexandria, and Arlington, Fairfax, Loudoun and Prince William counties.

"It's certainly a hot market right now, with units sold up and days on market under 30 everywhere," said Larry "Boomer" Foster, president of Long & Foster Real Estate. "I'm also encouraged by the prices that are starting to moderate". The end of last year saw double-digit price increases, but now they're in the mid-high single digits, which ensures that there won't be affordability challenges.
Inventory continues to be a challenge, with listed homes getting snatched off the market at a quick pace. The high demand for single-family homes also extends into the rental space, with many homes being built to rent. While this won't help alleviate any of the inventory challenges in the sales space, it allows consumers who would not typically be able to live in a single-family home to live there.
"From a real estate perspective, 2020 was a good year though not at all what we anticipated," Foster said. When reflecting on the past year, Foster commented that it was marked by "record-low interest rates, high demand and low inventory." The COVID-19 pandemic, which affected many industries worldwide, created huge demand in the housing market, as many people were incentivized to move to get away from dense, urban areas.
For those looking to buy or sell in 2021, Foster said to be mindful of rising interest rates. As the economy slowly recovers, interest rates will start pushing up, as it has been over the past two weeks. While it is not anticipated for rates to go above 3%, being aware of its rise will allow buyers and sellers to plan their timing and budget.
To learn more about your local market conditions, visit Long & Foster's Market Insights. You can also learn more about Long & Foster and find an agent at LongandFoster.com.