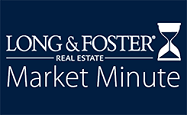 The number of homes sold continued its upward boost in the suburban Maryland region in December, according to the Long & Foster Real Estate Market Minute Report. Frederick County saw the largest rise with a 55% increase, followed by Charles County with a 32% incline. Median sale prices also climbed upward, with increases ranging from 7% in Montgomery County to 20% in Charles County. Inventory continued to drop, while days on market remained low.
The Long & Foster Real Estate Market Minute report for the suburban Maryland region includes Charles, Frederick, Montgomery and Prince George's counties.

"It's exciting to see how much 'units sold' are up across the board," said Larry "Boomer" Foster, president of Long & Foster Real Estate. "There's still a lot of demand, so we're seeing double-digit increases and low days on market."
With inventory continuing to be challenged, the need for more single-family homes is desired. However, homebuilders are currently also trying to meet demand in the rental space, making inventory within the sales space even tighter. Though builders are building at a fast pace, until the homes that are being held by older generations get put on the market, inventory may continue to be scarce.
Reflecting on the past year, Foster observed that 2020 was marked by low interest rates, record-high demand and low inventory. Historically, the real estate market is tracked by consumer confidence and employment. However, the pandemic threw everything for a loop. Interest rates hit all-time lows 14 times last year, giving consumers more purchasing power.
"It's a very hot market right now, especially with days on market under 30 for many regions," Foster said. For those looking to buy or sell in 2021, they need to be prepared for the current environment, but also potential changes. As the economy recovers, people will move their money out of treasury bills, which will push the 30-year fixed rate up. While Foster does not anticipate interest rates going above 3%, having consumers be aware of it will allow them to better prepare for any potential moves.
To learn more about your local market conditions, visit Long & Foster's Market Insights. You can also learn more about Long & Foster and find an agent at LongandFoster.com.