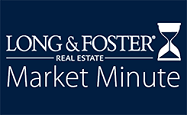 Both the number of homes sold and median sale prices rose upward throughout the Northern Virginia region in October, according to the Long & Foster Real Estate Market Minute Report. Prince William County had the largest increase in homes sold with a 46% increase, followed by Loudoun County with a 34% rise. Median home sale prices went up year-over-year, with increases ranging from 7% in Alexandria City to 16% in Arlington County. Inventory continued to fall region-wide aside from Arlington County and Alexandria City.
The Long & Foster Real Estate Market Minute report for Northern Virginia includes the city of Alexandria, and Arlington, Fairfax, Loudoun and Prince William counties.

"When looking at the numbers in and around the Northern Virginia region, it's the same as it's been aside from Arlington County and Alexandria City," said Larry "Boomer" Foster, president of Long & Foster Real Estate. While inventory levels are shrinking drastically everywhere else, Arlington and Alexandria are exhibiting high increases due to the high demand they witnessed two years ago from the Amazon announcement abating slightly. However, the low days on market indicates that demand for homes is still high and most homes that come on the market are being sold quickly.
As talks of a potential COVID-19 vaccine continue to circle, Foster predicts that once it comes out it will impact the economy in a positive way. "With an effective vaccine, people will be able to get back to work, the economy will start correcting and that should push mortgage rates higher," Foster said. As the economy stabilizes, people who put their money into U.S. Treasury bonds, will start moving that into equities, which will cause the yield on the Treasury Bill to go up.
With COVID-19 came new home trends to meet the age of social distancing and quarantining, including home offices, touchless appliances and home gyms. Foster believes these trends are here to stay, saying "remote work will most likely become more permanent, so these trends will continue to flourish". Since employees can work remotely with high productivity, employers are able to allow remote work to remain even after the pandemic ends, allowing for these home trends to remain a mainstay in home design.
To learn more about your local market conditions, visit Long & Foster's Market Insights. You can also learn more about Long & Foster and find an agent at LongandFoster.com.