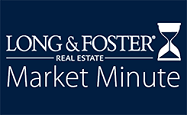 Median sale price increases were once again experienced throughout Maryland's Eastern Shore region in February, according to the Long & Foster Real Estate Market Minute Report.
Caroline County experienced the highest rise in median sale price, with a 74% increase, followed by Talbot County with a 66% rise. The number of homes sold climbed up across the region, with inclines ranging from 74% in Caroline County to 10% in Talbot County. Double-digit inventory declines were seen throughout the region. Homes sold quickly with days on market ranging from 28 to 68.
The Long & Foster Real Estate Market Minute report for the Maryland Eastern Shore includes Wicomico, Dorchester, Queen Anne's, Talbot and Caroline counties.

With the new stimulus package and the vaccine rollout, people are feeling more optimistic. We asked Long & Foster Real Estate president, Gary Scott, what impact he believes this optimism will have on the housing market. "As businesses open, the economy will pick up because more people will be working, which can only be a positive outcome for the housing market," said Scott. "The stimulus will add energy to the economy and the vaccine will add confidence to consumer behavior, which will contribute to a continued strong real estate market in 2021. Sellers will feel more comfortable listing their home and buyers will feel more comfortable looking for a home."
Scott commented that we currently have a unique combination of a super-sellers' market, because of low inventory, and a great buyers' market due to low interest rates. "Although interest rates have moved up slightly, it's best to compare rates to the last 10 to 15 years, rather than the last 10 to 15 days," said Scott. "It's important to note that rates are still at or near historic lows and we're confident the spring market will be strong."
Even with many businesses and restaurants reopening, Scott does not anticipate people moving back into more urban areas. "More people are working remotely and want more space, so they don't have to live near the city, where it's usually higher-priced," Scott explained. "Teleworking will play a role in future buying behavior patterns and I don't believe it will ever go back to the way it was."
To learn more about your local market conditions, visit Long & Foster's Market Insights. You can also learn more about Long & Foster and find an agent at LongandFoster.com.