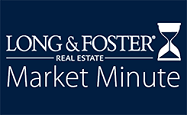 Median sale prices and the number of homes sold maintained its upward climb in November throughout Maryland's Eastern Shore region, according to the Long & Foster Real Estate Market Minute Report.
The rise in median sale price was led by Caroline County with a significant 44% jump, followed by Dorchester County with a 39% increase. Units sold were also on the incline with Worchester County experiencing a 65% increase and Talbot County with a 58% leap. Double-digit declines in inventory were seen again throughout the region.
The Long & Foster Real Estate Market Minute report for the Maryland Eastern Shore includes Wicomico, Dorchester, Queen Anne's, Talbot and Caroline counties. 

We've seen a very strong real estate market this year. Second home markets, such as at the beaches and Maryland's Eastern Shore, had brisk sales, which are expected to continue into the foreseeable future, but not forever. "Throughout all regions where we conduct business, we're currently seeing a decrease in showings and listings but an increase in sales," said Gary Scott, president of Long & Foster Real Estate. "Looking forward to 2021, we believe the market will be more traditionally seasonal."
There has been a significant increase in the use of technology in the real estate industry this year due to the pandemic. When asked if Scott sees this reliance on virtual tools continuing in the future, he commented that real estate is a relationship business and while there is no substitute for personal service, technology enhances our ability to keep in touch with clients and build rapport with them. "It's all about balancing technology with personal service," said Scott.
As more people have bought and sold homes using virtual tools this year, cybercrimes have become prevalent, with phishing scams and wire fraud being chief among them. Scott recommends not clicking on anything unless you're sure it came from a legitimate source. "Consumers should have heightened awareness that it can happen and no one is immune to it," said Scott. "Particularly in a real estate transaction or anything having to do with money, double-check with a phone call to the sender, when receiving money wiring instructions via email." Scott advised against forwarding a suspicious email to others because it could cause the receiver to also be prone to a cyberattack.
"We'll look back at 2020 in a few years and be surprised and blessed that the real estate industry clearly was the shining star of 2020 from an economic perspective," said Scott. "Many other industries benefit from real estate when people buy and sell homes. For instance, when purchasing a home, people may buy such things as a refrigerator, light fixtures, carpets, etc., which have a significant trickle-down affect into the economy."
To learn more about your local market conditions, visit Long & Foster's Market Insights. You can also learn more about Long & Foster and find an agent at LongandFoster.com.