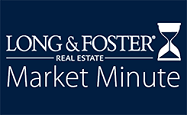 Home sale prices fluctuated all throughout the Winchester region in September, according to the Long & Foster Real Estate Market Minute Report. Frederick County had a 4% increase followed by Warren County with a 3 percent increase.  
The number of homes sold also varied with Warren County exhibiting a jump of 59% though Winchester City had no year-over-year change and Frederick County had a 1% decline. Inventory fell throughout most of the region aside from Winchester City, which demonstrated a 1% rise. 
The Long & Foster Real Estate Market Minute report for the region includes Frederick, Shenandoah and Warren counties, and the City of Winchester. 

"Within the Winchester region, it's pretty much the same story as it's been the past couple of months," said Larry "Boomer" Foster, the president of Long & Foster Real Estate. "Home prices are appreciating, and inventory continues to contract." 
Foster mentioned that days on market are starting to climb upwards, which is normal for this time of the year. As the fall market comes to a close Foster expects "days on market to get larger and if the market corrects a little bit, we'll see some home price appreciation." 
The 30-year fixed rate fell to its lowest levels in a month in early October, so many people are "coming out of the woodwork to refinance to take advantage of the low interest rates," Foster said. When interest rates climbed up at the end of last year, they were expected to continue their upward trend, however with so much money flowing into U.S. Treasury bonds there has been downward pressure on the 30-year fixed rate. 
First-time homebuyers should be aware that they're "operating in a space where there's a lot of demand and not a lot of inventory," Foster cautions. In the entry-level space it's a seller's market, so homebuyers need to come in strong and well-represented. Since real estate is so hyperlocal, it's important to have a quality Long & Foster real estate agent who will help write a strong offer and "talk consumers through what the demand is and what the competition is like." 
 To learn more about your local market conditions, visit Long & Foster's Market Insights. You can also learn more about Long & Foster and find an agent at LongandFoster.com.