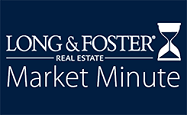 Home sale prices rose across half the Winchester region in May, according to the Long & Foster Real Estate Market Minute Report. Winchester City demonstrated the highest increase with a 14% rise, while Warren County had a 12% decrease.
The number of homes sold varied, with most of the region showing a decline. Though Frederick County had a 4% incline, Winchester City had a 22% fall. Inventory also dropped across the region, with Shenandoah County having a 44% decrease, followed by Warren County with a 31% decline.
The Long & Foster Real Estate Market Minute report for the region includes Frederick, Shenandoah and Warren counties, and the City of Winchester. 

"Though we had a bit of a hiatus in April and May, we expect there to be a strong boom in June and July," said Larry "Boomer" Foster, president of Long & Foster Real Estate. Though the COVID-19 (coronavirus) pandemic, caused the market to slow down a bit, things are starting to pick back up.
Mortgage rates dipped below 3% for the first time ever, allowing for more home buyers to become qualified. These low rates coupled with the pent-up demand for housing indicates that the market is going to be revitalized in the coming weeks. Though inventory continues to be a challenge, many of the homes that were taken off-market at the start of the pandemic have been listed again.
Home showings also increased to their highest level since February; another indicator that demand is high and people are actively searching for a new home. However, it's never been a better time to be a seller. Foster cautions against sellers becoming complacent due to it being a seller's market, saying that sellers still prep the home for home showings, such as decluttering, staging and cleaning. Home buyers also need to be prepared by getting pre-qualified.
To learn more about your local market conditions, visit Long & Foster's Market Insights. You can also learn more about Long & Foster and find an agent at LongandFoster.com.