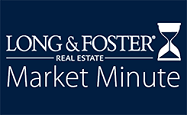 The number of homes sold increased in parts of the Winchester region this past August, according to the Long & Foster Real Estate Market Minute Report. Frederick County had a 13% increase and Warren County saw a 12% rise, though Shenandoah County had a 13% decline and Winchester City had no change.
Median sale prices took a downward turn, with Winchester City showcasing the largest decline with a 14% fall, followed by Frederick County with a 9% decrease. Inventory also fell throughout the region with both Frederick and Warren counties down by 15%.
The Long & Foster Real Estate Market Minute report for the region includes Frederick, Shenandoah and Warren counties, and the City of Winchester.

"You can expect a relatively good marketplace between now and Thanksgiving," said Larry "Boomer" Foster, president of Long & Foster Real Estate. Although the spring market peaked later than usual in 2019—with strong sales continuing through mid-May—Foster does not expect the same lag to occur this fall.
He anticipates similar market conditions as experienced in 2018, except with significantly higher demand and better interest rates. When the holidays arrive, many people will take their homes off the market as family comes into town and sellers prefer not to have their homes open for showings. For those wanting to buy, there is substantial credit available, making it still a good time to purchase a new home.
Foster also spoke about the Federal Reserve's potential lowering of the federal funds rate and what effect that could have on the market. While the federal funds rate can affect 30-year fixed rates, the two are not directly tied together. Foster said they're "directionally correct, meaning they typically go down together, but not always." The 30-year fixed rates associate more closely to Treasury bonds and since the yield on Treasury bonds are so low, that is pushing the 30-year fixed rate down.
To learn more about your local market conditions, visit Long & Foster's Market Insights. You can also learn more about Long & Foster and find an agent at LongandFoster.com.