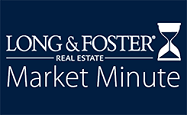 Home prices rose throughout the Fredericksburg real estate market last month, according to the latest Long & Foster Real Estate Market Minute report. The increase in median sale prices comes as a result of declining inventory, which fell in all areas except Culpeper County, where it rose 14 percent. The number of homes sold throughout the Fredericksburg region also declined in October, with a dramatic 38 percent decrease reported in Fredericksburg City.
Long & Foster Real Estate's Market Minute report for the Fredericksburg region includes Fredericksburg City and Spotsylvania, Stafford, Culpeper and Caroline counties.

"Inventory challenges have defined much of the real estate market in 2018, both in the Fredericksburg region and the country as a whole," said Larry "Boomer" Foster, president of Long & Foster Real Estate. "With the low supply of homes for sale, especially in the first-time and move-up buyer price range, prices are rising throughout the local area."
Foster recommended that consumers who are thinking about making a move in the coming year should start their planning today. "In real estate, spring begins in January, and it pays for would-be buyers and sellers to meet their Long & Foster Real Estate agent now and prepare for the year ahead," Foster noted.
Working with a Long & Foster agent, home buyers gain access to the company's expansive network of 10,000+ agents, who are not limited to what's currently on the market for sale today. The company itself offers a Coming Soon Portal that allows its associates to share properties that are soon to be listed for sale, and a luxury-focused private exclusive feature that showcases high-end homes being sold privately by Long & Foster associates.
Likewise, Prosperity Home Mortgage consultants are located in almost every Long & Foster office and can help buyers with all their financing needs. While mortgage interest rates remain at historic lows, they've risen above the all-time lows of a few years ago. As rates increase, the cost of homeownership grows, so it's critical that would-be buyers connect with a mortgage consultant like those at Prosperity to get pre-approved and lock in their rates today, Foster said.
For home sellers, Foster advised that "now's a prime time to go on the market because buyers who are shopping are serious about their home purchase."
To learn more about your local market conditions, visit Long & Foster's Market Insights. You can also learn more about Long & Foster and find an agent at LongandFoster.com.