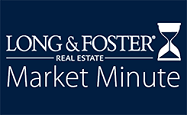 Home prices continued to rise in much of the Fredericksburg region while sales fell in many areas, according to the latest Long & Foster Real Estate Market Minute report. Caroline County had the biggest jump in median sale price with an 11% rise while both Culpeper County and Fredericksburg City saw a dip in price. Home sales decreased in Caroline County by 17%, which was the biggest drop. The amount of inventory varied throughout the region with Stafford County showing a 14% decrease while Culpeper County had an increase of 17%. 
Long & Foster Real Estate's Market Minute report for the Fredericksburg region includes Fredericksburg City and Spotsylvania, Stafford, Culpeper and Caroline counties.  

"When you look at the market the economy's really good," said Larry "Boomer" Foster, president of Long & Foster Real Estate. "We've got ample demand, there's plenty of credit for people to get and we're not artificially running prices up. The only difficulty in the market is the lack of product to sell." 
There are many reasons as to the shortage of inventory: a lot of baby boomers are aging in place, people who bought or refinanced homes when interest rates were at an all-time low don't want to move away from that rate and builders are not providing product consumers want.  
The tariffs that are being enforced on Chinese goods and Canadian lumber are driving up the materials costs. That along with the increase in wages for skilled workers and land appreciation is putting a squeeze on builders' margins, Foster explained. Builders are offsetting those margins by building bigger homes however most consumers nowadays are looking to buy entry-level homes. 
"Builders are building at an anemic rate, when compared historically," said Foster. "They might sell 650,000 homes this year compared for 2007 where they sold maybe 750,000 homes. During the recession many builders made too many homes that later did not sell, so most are wary of putting nail to board unless they think they can sell it."  
There is no doubt however that people will pay premiums for new homes. There are various reasons for this, the main ones being the location of the home, people want to live somewhere no one has lived, they get to customize their home and new homes have warranties that go along with them. "These warranties provide peace of mind that if something breaks down within the first couple years, you'll have a professional come in to fix it," Foster said. "But that doesn't mean you shouldn't use a real estate agent. The process is different and contracts can be very intense and written to favor the builder. Having someone that's well-versed in the process on your side is essential."  
To learn more about your local market conditions, visit Long & Foster's Market Insights. You can also learn more about Long & Foster and find an agent at LongandFoster.com.