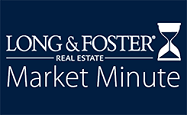 Most of the Charlottesville Area saw an increase in the number of homes sold in July, according to the Long & Foster Real Estate Market Minute Report. Buckingham County demonstrated a whopping 100% increase, followed by Nelson County with a 61% incline. Home sale prices varied across the region, with Buckingham County having a 35% rise, while Greene County had a 9% fall. Inventory had sharp declines ranging from 34% in the City of Charlottesville to 60% in Fluvanna County.
The Long & Foster Real Estate's Market Minute report for the Charlottesville region includes the City of Charlottesville and Albemarle, Buckingham, Nelson, Fluvanna and Greene counties.

"Units sold are up in the Charlottesville area, even though inventory remains low," said Larry "Boomer" Foster, president of Long & Foster Real Estate. This is a sign of the high demand for housing, especially as most homes are sold within a relatively short time period.
The housing market is strong despite the current economic climate and purchasing power has never been better. There is no significant risk of a foreclosure crisis as the people who own homes have large amounts of equity in it, unlike in the past economic recession.
At the beginning of the year, there was a trend of people moving away from the city in favor of the suburbs or exburbs. This trend is still going strong, as the pandemic continues to entice people to be in areas with more space and privacy. This is especially apparent in the rise of vacation rentals in the later summer months. As people grow tired of their current living situation, they are venturing out to vacation rentals nearby for a change of scenery. While the housing market is strong in suburban areas, cities offer many conveniences that will draw people back in once the pandemic is over.
To learn more about your local market conditions, visit Long & Foster's Market Insights. You can also learn more about Long & Foster and find an agent at LongandFoster.com.