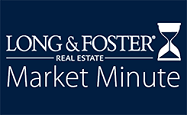 Half of the Charlottesville area saw the number of homes sold increase in November, according to the Long & Foster Real Estate Market Minute Report. Fluvanna County had the largest increase with a 32% rise, while Buckingham County had a 33% decline.  
Home sale prices varied across the region, with Buckingham County exhibiting the largest jump with a 45% rise, while Albemarle County had a 15% decline. With the exception of Greene County, which had a 7% increase, inventory fell across the region. Buckingham County displayed the biggest decrease with a 20% dip, followed by Albemarle County and Fluvanna County which both dropped by 11%. 
Long & Foster Real Estate's Market Minute report for the Charlottesville region includes the City of Charlottesville and Albemarle, Buckingham, Nelson, Fluvanna and Greene counties. 

"While inventory continued to shrink in the Charlottesville area, the median sales prices are only appreciating at low to mid single digits, which is healthy," said Larry "Boomer" Foster, Long & Foster's real estate president. This indicates that there's no fear of a housing bubble since prices are not inflating dramatically, despite drastically low inventory. 
Foster pointed out that the spring market is approaching and for those who are looking to list their home, now is the time to start preparing for it. "It's not too early to start planning because people are going to have to do some work on their house to get it ready for market," Foster mentioned. Despite most people's notions, the spring market starts in January before ramping up in February and March. For sellers looking to list their home, the first thing they need to do is consult a Long & Foster agent for advice on what to renovate and how to stage.  
For those whose home did not sell in the winter, Foster recommends consulting an agent to get an idea of whether or not the home was prepared to be shown to a professional. During the fall market, there are typically less buyers, but they're usually more serious. If it did not sell, it's because it probably it wasn't staged properly or it was not marketed to the biggest pool of potential prospects. Exposing your home to more prospects will drive more demand to your home and, in turn, drive up the price of the house. So if it did not sell, make sure to talk to a true real estate professional. 
To learn more about your local market conditions, visit Long & Foster's Market Insights. You can also learn more about Long & Foster and find an agent at LongandFoster.com.