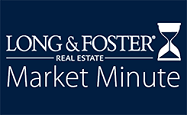 Many counties in the Northern Virginia region saw a slight uptick in median sale prices in June, according to the Long & Foster Real Estate Market Minute report. Arlington County displayed the largest increase with a 7% rise followed by both Fairfax and Prince William counties with a 4% increase. Units sold and inventory continued to fall dramatically throughout the region. Arlington County and Alexandria City had the largest declines in home sales, with a 22% and 20% decrease respectively. The region saw inventory declines range from 17% to 57%. 
The Long & Foster Real Estate Market Minute report for Northern Virginia includes the city of Alexandria, and Arlington, Fairfax, Loudoun and Prince William counties. 


With the year halfway over Larry "Boomer" Foster, president of Long & Foster Real Estate, provided some mid-year updates and insight into what to expect for the rest of 2019. "The economy is strong right now and that translates to a strong real estate market," Foster said. "With unemployment low and wages rising, people have more money in their pocket to put back into the economy."  
When looking at the numbers for this month, Foster pointed out the dramatic decrease in units sold in Northern Virginia. "You're looking at double-digit decreases especially around Arlington and Alexandria, which isn't surprising with inventory continuing to contract."  
Foster mentioned that the Federal Reserve is considering lowering the federal funds rate, the rate at which the federal government loan banks money. Typically, they will lower it in an effort to stave off recessions; however Foster is more confident in the economy and believes that the economy is not slowing down, since the job market is going strong right now. 
When casting predictions for the rest of the year, Foster speculated that it will be similar to what happened last year. "It will feel slow going into Labor Day and pick up a bit between then and Thanksgiving before slowing down again till the next year," he said.  
Foster also touched on people aging in place, saying "people want to age in place for a combination of reasons, but for the most part they don't want to leave what they've known for so long." Eventually many will have to downsize so they can handle the physical and financial aspects of homeownership, however some may put modifications in their existing home to make it easier for them to age in place. Foster emphasizes the importance of using a trusted agent who will be able to provide information on the different options available to aging consumers.
To learn more about your local market conditions, visit Long & Foster's Market Insights. You can also learn more about Long & Foster and find an agent at LongandFoster.com.