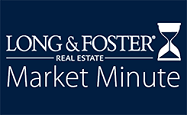 December saw home sale prices increase across the Northern Virginia region, according to the Long & Foster Real Estate Market Minute Report. Arlington County displayed the biggest leap with a 19% increase, followed by Fairfax County with a 10% rise. 
The number of homes sold was divided, with Loudoun County and Prince William County having 8% and 9% inclines respectively. While Alexandria City had the largest decline in homes sold with a 29% fall. Inventory also took a dip, with Prince William County exhibiting a 54% decrease.  
The Long & Foster Real Estate Market Minute report for Northern Virginia includes the city of Alexandria, and Arlington, Fairfax, Loudoun and Prince William counties. 

When looking at the real estate market for December, Larry "Boomer" Foster, president of Long & Foster Real Estate, remarked that it is an interesting time in real estate. He stated the economy is continuing to be in a good place, with incredibly low unemployment, rising wages and consumer confidence through the roof. However, with the continuing decline of inventory, there are not enough homes on the market to meet the growing demand. 
For those who are unsure whether or not they should rent or buy, Foster stipulates that if you have the money to put down and plan to stay in the area for an extended period of time, it would be in your best interest to buy. With buying, homeowners are able to get tax benefits and write off their mortgage interest, something that they otherwise would not be able to do when renting. While renting offers flexibility and the capability to move when the mood strikes, homeownership is the surest way towards wealth creation.
With homeownership, the first question people need to ask is whether they qualify, Foster said. He advised speaking with a qualified home mortgage professional, such as a loan officer at Prosperity Home Mortgage. They will be able to talk through down payment, credit and any other qualifications.
To learn more about your local market conditions, visit Long & Foster's Market Insights. You can also learn more about Long & Foster and find an agent at LongandFoster.com.