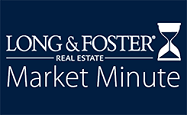 The median sale price of homes appreciated throughout the Northern Virginia region in October, according to the Long & Foster Real Estate Market Minute Report. Alexandria City displayed the largest increase with a 12% rise, followed by Fairfax County with an 11% increase.  
The number of homes sold varied throughout the region, with Arlington County and Alexandria City exhibiting low single-digit declines, while Fairfax County, Loudoun County and Prince William County all showcased slight growth. Inventory continued to decrease across the region, with Arlington County having the largest drop with a 51% fall. The days on market remain low, with most homes selling within a month. 
The Long & Foster Real Estate Market Minute report for Northern Virginia includes the city of Alexandria, and Arlington, Fairfax, Loudoun and Prince William counties. 

While surveying the real estate market in October, Larry "Boomer" Foster, president of Long & Foster Real Estate, said, "Inventory challenges due to the Amazon effect have caught up to us since the number of units sold are down in both Arlington County and Alexandria City." 
Though inventory and the number of homes sold have dropped Foster believes the real estate market is still healthy. There is a high demand for homes as evidenced by the low number of days properties stay on the market, which comes in around a month or below.  
Foster also discussed the National Association of Realtors' recent passage of a rule to ban pocket listings. The ruling dictates that once a home has been marketed to the public it needs to go onto a multiple listing service within one business day. This will allow consumers to have a fuller picture of what is on the market as well as expose properties to a wider range of potential prospects. Overall, Foster believes this is a pro-consumer move that will be beneficial for many. 
Speaking on the current impeachment proceedings, Foster does not think that it will have any effect on the real estate market, saying "the things that cause volatility in consumer confidence is turmoil in the world economy, such as the trade war with China or Brexit." The impeachment hearings should not affect consumer confidence in any way. 
The upcoming election year should have a slight impact on consumer confidence, as it does every election year, Foster said. The first three quarters of the year are expected to be strong, however consumer confidence will dip slightly in October as the unknown of who will be elected causes uncertainty. Once the election is over it will spike back up again, regardless of who gets elected, he explained.  
To learn more about your local market conditions, visit Long & Foster's Market Insights. You can also learn more about Long & Foster and find an agent at LongandFoster.com.