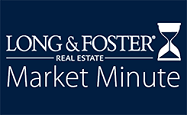 Home sale prices displayed a minor upward tick in most parts of the Northern Virginia region in November, according to the Long & Foster Real Estate Market Minute Report. Prince William County had the largest increase with a 7% rise, while Arlington County and Loudoun County had a 3% decrease and no year-over-year change respectively.  
The number of homes sold took a downward turn last month, with Alexandria City showing the biggest decrease with a 32% fall. The rest of the region had declines ranging from 20% in Arlington County to 9% in Prince William County. Available inventory also had a slump throughout the region with Arlington County featuring the largest drop with a 50% decrease. 
The Long & Foster Real Estate Market Minute report for Northern Virginia includes the city of Alexandria, and Arlington, Fairfax, Loudoun and Prince William counties.

"November is a month of extremes when looking at the Northern Virginia area," said Larry "Boomer" Foster, the president of Long & Foster Real Estate. Surveying the numbers, Foster said that "inventory is down quite a bit, but median sale prices are appreciating at low levels, which is healthy." 
While inventory is at a low right now, it is predicted that a wave of baby boomers will start to move out of their homes at a fast pace within the next 20 years. Dubbed the Silver Tsunami, this will help ease the inventory challenges, as a large number of homes will be put on the market that were previously unavailable. 
Looking ahead to 2020, Foster predicted that it will be similar to 2019 from an inventory and interest rate perspective, saying that "unless something positive happens in the world economy, interest rates should stay at or around 4%, which is still historically low." Since the presidential election is next year, Foster anticipates the spring market to start a little earlier and the summer market to last a little later based on past election years.  
For those thinking of putting their home on the market, Foster said that now is the time to start planning. "When we talk about the spring market, most people are putting their homes on the market in January through March and closing in March or April." Now is a good time to start planning, as most buyers are looking for move-in ready, so it's a good time to start any renovations, or at the very least some painting and carpet work. Whatever the state of the seller's home, the most important thing is to declutter and do some staging to make the home presentable to potential buyers. 
To learn more about your local market conditions, visit Long & Foster's Market Insights. You can also learn more about Long & Foster and find an agent at LongandFoster.com.