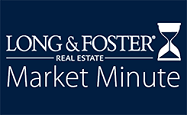 Home sale prices continued to appreciate throughout the Charlottesville Area in February, according to the Long & Foster Real Estate Market Minute Report. Nelson County exhibited a dramatic 91% boost, followed by Buckingham County with an 89% jump. Units sold varied, with Fluvanna County seeing a 92% rise, while Greene County fell by 6%. Inventory had significant declines, and days on market ranged from 32 days to 64 days.
The Long & Foster Real Estate's Market Minute report for the Charlottesville region includes the City of Charlottesville and Albemarle, Buckingham, Nelson, Fluvanna and Greene counties.

"The numbers haven't changed much – with units sold and median sale prices all increasing across the board," said Larry "Boomer" Foster, president of Long & Foster Real Estate. What the numbers don't reflect is the growing increase in demand for housing, while the number of homes going on the market decreases.
The new stimulus package and vaccine rollout will help the economy as people start to feel more optimistic and start to buy more. This will inevitably cause an increase in the 10-year treasury rate and mortgage rate, as they fundamentally move in the same direction. However, rates are still historically low and are expected to stay at or around 3% for the remainder of the year. "It's a red-hot market right now and people who were hesitant to list their homes due to COVID-19, may feel safer about doing so, which will help our inventory challenges a little bit," Foster said.
Last year, there was a mass exodus of people from the city to the suburbs or exurbs. Foster believes this trend will continue, even with more businesses and restaurants opening, since people still desire more space in their homes. With many people working remotely, the need to be near urban areas, where it's higher-priced, has become unnecessary. Bars and restaurants may eventually move out to the suburbs to be near the people.
To learn more about your local market conditions, visit Long & Foster's Market Insights. You can also learn more about Long & Foster and find an agent at LongandFoster.com.