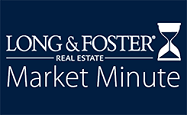 The median sale prices in the Fredericksburg region appreciated in January, according to the Long & Foster Real Estate Market Minute Report. Fredericksburg City had the largest rise with a 23% increase, followed by Stafford County with a 15% incline. Units sold also climbed upward, aside from Stafford County, which had a 4% decline. Inventory saw dramatic decreases while days on market remained low. 
The Long & Foster Real Estate's Market Minute report for the Fredericksburg region includes Fredericksburg City and Spotsylvania, Stafford, Culpeper and Caroline counties. 
"It's the same story everywhere, with median sale prices going up and inventory shrinking," said Larry "Boomer" Foster, president of Long & Foster Real Estate. This all has to do with the massive demand for homes right now, with many people looking to buy but not as many looking to sell.
With mortgage rates reaching their highest point since mid-November, Foster discussed how that would not affect homebuyers since the rates are still historically low. "When you have rates as low as 2 to 3%, consumer's purchasing power is higher, so they're able to afford more house," Foster explained. Though mortgage rates saw modest increases, they are expected to stay low for the rest of the year and not go above the 3% mark.
Foster also gave advice to homebuyers debating between buying a new home versus an existing home. "The pros to a new home are that you can customize it and the warranty will ensure the builder can come in and fix things as needed." The downside is that the builder will dictate the price and if you end up selling before the neighborhood is built up, you could get undercut. With an existing home, the value is known, and a home warranty will cover any fixes and limit potential risks. However, the look and feel of the home may not meet all your expectations. It all comes down to what the homebuyer wants in a home.
To learn more about your local market conditions, visit Long & Foster's Market Insights. You can also learn more about Long & Foster and find an agent at LongandFoster.com.