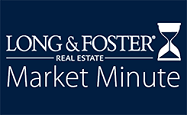 Median sale prices appreciated across most of the Fredericksburg region in April, according to the Long & Foster Real Estate Market Minute Report. Aside from Fredericksburg City, which saw a miniscule 2% decline, the rest of the region saw inclines ranging from 10% in Culpeper County to 15% in Caroline County. Units sold saw notable increases, with Culpeper County jumping up 46%. Inventory continued to decline while days on market remained low.
The Long & Foster Real Estate's Market Minute report for the Fredericksburg region includes Fredericksburg City and Spotsylvania, Stafford, Culpeper and Caroline counties.

"We've been talking about inventory for years, but the rate at which it's declining is starting to slow," said Larry "Boomer" Foster, president of Long & Foster Real Estate. "In conjunction with the increase in new listings and the healthy appreciation of median sale prices, it's very encouraging to see."
Even with inflation rates starting to rise steadily, Foster does not anticipate this affecting the market too heavily. "Consumers' buying power as it relates to the housing market is still high," Foster said. Most people look at how much the home will cost per month, not the overall price, so with rates staying at or around 3%, buying a home is still a feasible and attractive option.
When it comes to buying and selling a home concurrently, Foster advises hiring a real estate professional. "There are options to limit risk and a professional Long & Foster real estate agent can help you navigate the process," said Foster. Especially since most homes are selling faster than most consumers can buy them, many need to be aware of a potential interim move. There are also bridge loan programs that will allow homebuyers to buy a home first before putting their home on the market. However, while there is still ample demand for homes, the number of new listings that are coming on the market are increasing so not having a place to go should not stop consumers from listing their home.
To learn more about your local market conditions, visit Long & Foster's Market Insights. You can also learn more about Long & Foster and find an agent at LongandFoster.com.