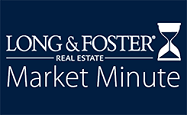 The median sale price of homes increased across the Delaware Valley/Lehigh Valley Region in July, according to the Long & Foster Real Estate Market Minute Report.  Increases of 13% were seen in Camden County, followed by 11% in Mercer County. Inventory continued to drop and number of days on market ranged from 41 to 53.
The number of homes sold increased in all parts of the region with the exception of Mercer County, which exhibited a 6% decrease, compared to last year at this time.

The Long & Foster Real Estate Market Minute report for the Delaware Valley/Lehigh Valley region includes Burlington, Camden, Gloucester and Mercer counties.
The housing market has recovered remarkably this summer and despite the current economic climate, is expected to continue into the fall. "We've seen different buying patterns with so many people working from home now," said Gary Scott, president of Long & Foster Real Estate.
The pandemic has caused many people living in urban centers to flock to the suburbs to have more space and be away from crowds. Since more people are working remotely, the need for a place with separate areas for work and relaxation have become essential.
"People are purchasing vacation homes within driving distance of their primary homes," said Scott. "Real estate sales at the beaches are at or near an all-time high." Demand for homes in other areas is also incredibly strong, while purchasing power has never been better.
Average fixed mortgage rates continue to be historically low and the risk of a foreclosure crisis is unlikely, since most people have significant equity in their homes. During the economic recession of 2007 and 2008, many people had put little to no down payment on their homes. In today's climate, "people have a lot more equity in their home, so the chances of foreclosure are low," Scott explained. To learn more about your local market conditions, visit Long & Foster's Market Insights. You can also learn more about Long & Foster and find an agent at LongandFoster.com.