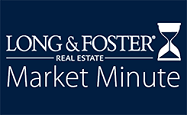 The number of homes sold fell in the Delaware Valley/Lehigh Valley region in June, with declines ranging from 12% to 39%, according to the Long & Foster Real Estate Market Minute Report. Median sale prices increased, including by 16% in Camden County and 8% in Gloucester County. Inventory continued to drop, with Camden County experiencing a 60% drop and Gloucester County seeing a 59% drop.
The Long & Foster Real Estate Market Minute report for the Delaware Valley/Lehigh Valley region includes Burlington, Camden, Gloucester and Mercer counties.  

"Interest rates, pent up demand and low inventory have created a frenzy in the real estate market – it's a great time to be a seller," said Gary Scott, president of Long & Foster Real Estate. "The question is, will that last?"
Due to the pandemic, there's also been a shift in what people are looking for in terms of property type, Scott said. For years, many were migrating to more urban, walkable areas but now people are moving to more rural and suburban environments and beach properties, which are smoking hot, he said. The drastic increase in remote work is making it easier for people to move to a new location.
"Regardless of how hot the market is and how low inventory is, you still need to be priced right and have your home in good condition if you plan to sell," Scott said. "You can either sell in 15 days with multiple offers or sit on the market for a long time. And from a buyer's perspective, you'd better be ready to make quick decisions."
For those concerned about buying or selling in a pandemic, Scott reassures them that it's a safe activity. Long & Foster Real Estate agents are largely utilizing virtual capabilities to handle transactions, and when connecting in person is necessary, they're practicing the fundamentals of social distancing, he said. That includes using masks, hand sanitizer, maintaining six feet of distance, and limiting showings of homes to one or two people at a time.
"We feel that it's safer to show a home or tour one than it is to go to the grocery store," Scott said. "We're maximizing our virtual capabilities and will continue to do so."
To learn more about your local market conditions, visit Long & Foster's Market Insights. You can also learn more about Long & Foster and find an agent at LongandFoster.com.