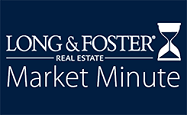 The April data shows an upward trend in median sales prices, and further examination shows the rise can be attributed, in part, to shifts in the makeup of the housing market. This is due to the economic shutdown caused by the pandemic, which disproportionally affected people in the lower income brackets, forcing them to delay or cancel potential real estate transactions. Consequently, this month had fewer than normal sales of homes priced below $300,000, causing the median price to rise. In April 2019, properties sub-$300,000 made up 79.8% of the market in the Delaware Valley/Lehigh Valley region, but this April, only 74.1% of homes sold were in that price range.
Year-over-year inventory dropped across the region. The number of units sold also dropped while days on market ranged from 48 in Camden County to 60 in Burlington County.
The Long & Foster Real Estate Market Minute report for the Delaware Valley/Lehigh Valley region includes Burlington, Camden, Gloucester and Mercer counties. 

April was the first full month that Long & Foster's regions experienced the coronavirus (COVID-19). "We feel good about where we are versus where we thought we'd be this month," said Gary Scott, president of Long & Foster Real Estate. "Real Estate is considered an essential business in most states, so we are listing and selling real estate in the states where there are no restrictions to do so, although it is done virtually – with a priority on safety first and transactions second."
Scott speculated that we'll see millennials and downsizers make a purchasing shift away from vertical condo living in the city to the more open spaces of homes in the suburbs, although time will tell. "Inventory shortages have been our headwind for 36 months and with buyers temporarily hitting the pause button, our market seems to be balancing out," said Scott.
"One of the great values of our company is our ability to operate in seven states and the District of Columbia," said Scott. "Our integrated family of companies spans across a geography that is so spectacular, it gives us an edge that others don't have."
When asked if COVID-19 changes the vision of Long & Foster, Scott commented that it strengthens the vision of the company. "It validates and confirms that the all-inclusive homeownership experience will serve clients best and come out being the winner."
To learn more about your local market conditions, visit Long & Foster's Market Insights. You can also learn more about Long & Foster and find an agent at LongandFoster.com.