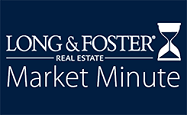 The entire Eastern Shore of Maryland's real estate market saw median sale prices increase in April, according to Long & Foster Real Estate's Market Minute report. In Caroline County, the median sale price rose by 24%, followed by a 16% increase in Dorchester County. The number of homes sold also increased in most of the area, except Caroline and Wicomico counties. Active inventory decreased in many parts of the region except for modest increases of 2% in Queen Anne's County and 1% in Dorchester County.
The Long & Foster Real Estate Market Minute report for the Maryland Eastern Shore includes Worcester, Wicomico, Dorchester, Queen Anne's, Talbot and Caroline counties.

Despite struggles with inventory, rising building costs, and fluctuations in the economy, many people continue to feel positive about the housing market, said Gary Scott, president of Long & Foster Real Estate.
"In my career, I've never seen an inventory shortage last so long, but our agents still feel good about the current market, and there are a lot of positive indicators, including in the Maryland Eastern Shore market," Scott said. "Consumer confidence remains high despite the economic ups and downs, and consumers are really weathering that storm."
Some of those indicators include median sale prices that are increasing at a moderate pace and relatively high list versus sale price ratios. People should keep in mind that each market has its own sweet and sour spots though, Scott said.
While some tariffs on products from Canada and Mexico have been lifted, builders are still struggling with the tariff on Canadian lumber, and new tariffs on products from China will continue to add to their costs.
"The bottom line is that the cost of building will go up, which is not what we need," Scott said. "It adds to the already existing challenge of builders not meeting market demand for entry-level homes." Generally though, consumers purchasing new construction homes won't let it impact their choice to buy, and the National Association of Realtors predicts that new home sales will reach a 12-year high in 2019.
While many may assume that they don't need a real estate professional to purchase a new home, Scott disagrees. "It's more critical than ever to work with an agent when buying a new construction home," he said. "Builders' work isn't always perfect, and the builder's sales staff is representing the builder. You still need that representation to look out for you and your best interests."
To learn more about your local market conditions, visit Long & Foster's Market Insights. You can also learn more about Long & Foster and find an agent at LongandFoster.com.