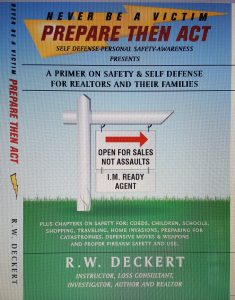 A licensed Realtor since 2008, Rick Deckert has found numerous ways to incorporate his previous experiences and knowledge from throughout his career into the real estate field. Most recently, he published his newest book, Prepare Then Act: A Primer on Safety & Self Defense for Agents & Their Families.
After joining the Army in 1968, Deckert was assigned to Special Intelligence where his investigative experience began. He then transitioned to working for a national adjusting and investigation company before launching his own company that focused on home and business insurance losses. His first book, Stopping Employee Theft: What Every Employer Must Know, led to a position as a property general adjuster with Crawford and Company before he became a public adjuster and loss consultant.
Deckert had been working in the real estate industry for four years when he heard the news of an agent being sexually harassed and realized how few safety classes were offered for real estate agents. He combined his background in investigations, martial arts and firearm proficiency with his knowledge of what Realtors face on the job and began providing preparation and safety seminars for real estate agents, as well as coed groups, law firms, retail supervisors and homeowners associations. Since 2013, he has trained more than 2,000 individuals.
In his new book, Prepare Then Act, he shares information from his seminars that discusses all aspects of staying safe, whether working as a Realtor, shopping, traveling, worrying about children at school, coeds in college, scams of aging parents, and more. The 240-page book also includes information about being safe at home, firearm safety, defensive moves and using defensive weapons and tools. Deckert said he wrote the book after leading safety seminars in numerous Long & Foster offices and hearing feedback from agents wishing they could find his information in book form.
"There are a number of dangers people often don't consider when they become a real estate agent," Deckert said. "I hope that by sharing my knowledge and experiences, I can help make sure agents and their loved ones have the information they need to stay safe as they do the work they love in helping clients buy and sell homes, as well as in the agents' personal lives."
Deckert joined Long & Foster in 2008 and his wife, Jan Deckert, is a 30-year agent with Long & Foster. He and his wife are Howard County, Maryland, residents who both graduated from the University of Maryland. They have two daughters and five grandchildren.
Prepare Then Act can currently be purchased from Deckert's website, www.preparethenact.com for $16.95 each, or for $13.95 each when five or more books are purchased. For more information about Long & Foster, visit www.Longandoster.com.