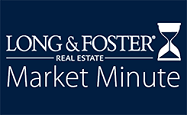 The Jersey Shore region experienced an increase in the median sale price of homes in September, according to the Long & Foster Real Estate Market Minute Report. The median sale price rose by 21% in Cape May County and by 17% in Cape May County. The number of year-over-year units sold was also up by 28% in Cape May County and 10% in Atlantic County. Active inventory continued to drop in the double digits throughout the region.
The Long & Foster Real Estate Market Minute report for the South Jersey Shore region includes Atlantic and Cape May counties.

Historically, the uncertainty of an election year creates fear and a decline in consumer confidence, causing fewer people to buy homes – but this year everything is different. "The usually strong spring real estate market shifted to summer and is now extending into fall," said Gary Scott, president of Long & Foster Real Estate. "The strength of low interest rates is stronger than concerns over the election."
When asked to provide advice to homebuyers in this multiple offer environment, Scott offered several effective strategies for navigating our current hot real estate market. "Be ready to buy, don't play games, use a lender like Prosperity Home Mortgage to get an underwritten pre-approved loan without a property, be prepared to pay over asking price, be ready for the inspection process to be less robust than it's been in the past, bring your highest and best offer first," said Scott. "And you need a great Long & Foster agent to represent you."
Scott added the pandemic and telework capability are causing consumers to think about travel and vacation very differently and there's been a shift in buying patterns. "COVID-19 has caused everyone to reflect on their lives," said Scott. "With the stock market high, interest rates low, and the ability to telework several days a week, there's a shift to buying a bigger house further away from the office, such as at the beach and using it as a vacation home as well as a primary residence."
To learn more about your local market conditions, visit Long & Foster's Market Insights. You can also learn more about Long & Foster and find an agent at LongandFoster.com.