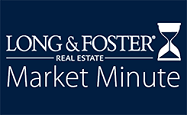 The number of homes sold had significant increases in most of the Greater Roanoke region in January, according to Long & Foster Real Estate's Market Minute Report.  
Salem City had a 54% jump, though Botetourt County had no year-over-year change and Roanoke County exhibited a 16% dip. Median sale prices varied, with Botetourt County having a 40% incline, while Salem City had a 6% decrease. Inventory saw dramatic declines and days on market ranged from 27 days to 95 days.  
The Long & Foster Real Estate Market Minute report for the Roanoke region includes the cities of Roanoke and Salem, and Botetourt, Franklin and Roanoke counties. 

Mortgage interest rates remained steady before recently inching up to their highest point since mid-November. It's important to note that interest rates are still below 3%, which provides the ability for homebuyers to buy more house. In addition, it allows renters to become homebuyers.
"We anticipated there would be a slight interest rate bump in 2021 from their historic lows, but no one predicts they'll go above 3%," said Gary Scott, president of Long & Foster Real Estate. "Listing inventory is still at an all-time low, which is a concern, but interest rates are being held low and are the engine to help make sure our economy continues to run." Scott added, the upcoming stimulus package and the increase in vaccine availability will help to bolster the economy. "We don't have a magic answer to the low inventory, but as the spring market approaches, we're likely to see more listings come on the market," said Scott.
Scott provided some advice to homebuyers who may be debating on buying a new home versus an existing home. "With a new home, you have choices on the design and are able to customize it. Although everything is under warranty, I recommend getting a home inspection on a new home," said Scott. "You won't get into a bidding war with new construction, but you'll have to wait for the home to be built and wait to lock in your interest rate." Scott added that with an existing home, the value is known, and a home warranty will cover any fixes and limit potential risks. However, he added, the look and feel of the home may not meet all your expectations, so plan to budget 3% to 5% of the sales price for upgrades. It all comes down to what the homebuyer wants in a home.
To learn more about your local market conditions, visit Long & Foster's Market Insights. You can also learn more about Long & Foster and find an agent at LongandFoster.com.