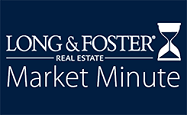 December brought a significant increase in the number of homes sold in the Greater Roanoke region, according to Long & Foster Real Estate's Market Minute Report. Franklin County experienced a 91% climb in the number of homes sold, followed by Roanoke County with an 81% increase.   
Median sale prices also rose across most of the region with Roanoke County exhibiting a 31% increase, while Franklin County experienced a 21% rise. Compared to December 2019, active inventory continued a downward trend throughout the region.   
The Long & Foster Real Estate Market Minute report for the Roanoke region includes the cities of Roanoke and Salem, and Botetourt, Franklin and Roanoke counties. 

Housing inventory shortages are expected to continue in 2021, but builders are constructing homes at a fast pace, which will help to be part of the solution in the future. "While I believe the worst might be behind us, we're not close to coming out of our low inventory environment just yet," said Gary Scott, president of Long & Foster Real Estate. "Our inventory challenges may not get better, but it shouldn't get worse, as it's done consistently over the last three years." Scott added that as more people in the COVID-19 high-risk age group receive the vaccine, he believes they'll feel more comfortable having potential buyers come into their homes. Since older generations are aging in place in high numbers right now, it will be interesting to see if receiving the vaccine will have an impact on inventory.
Scott reflected on what stood out to him about the 2020 real estate market, indicating that real estate was the shining light of the economy, exceeding expectations. Historically low mortgage interest rates were the driver, with 14 low interest rate records set last year. "When rates are below 3%, you're bound to buy and sell," said Scott. "We also never estimated the almost immediate impact of remote working on consumer behavior in the housing industry." The ability of consumers to work remotely caused a 'flight from density', increasing sales in the suburbs and beaches.
When asked what consumers should be aware of when buying or selling a home in 2021, Scott advised buyers to be prepared and educated on the current real estate market. He added sellers should understand that even though it's a great market, selling a home is a complicated process involving many steps and they need a professional real estate agent with good training to guide them through it.
To learn more about your local market conditions, visit Long & Foster's Market Insights. You can also learn more about Long & Foster and find an agent at LongandFoster.com.