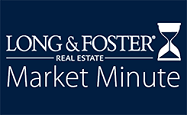 Home sales hiked upward throughout most of the suburban Maryland region in October, according to the latest Long & Foster Real Estate Market Minute Report. Except for Prince George's County, which had an 11% decrease, all other counties exhibited increases ranging from 13% in Charles County to 3% in Frederick County.  
Home sale prices also climbed up all over the region with Prince George's County showcasing the biggest jump with a 10% rise while Frederick County exhibited no year-over-year change. Inventory, on the other hand, took a dip across the region. Prince George's County displayed the largest decline with a 35% fall, followed by Charles County with an 18% decrease. 
The Long & Foster Real Estate Market Minute report for the suburban Maryland region includes Charles, Frederick, Montgomery and Prince George's counties. 
"For the most part the market is strong – there's ample credit and significant demand," said Larry "Boomer" Foster, president of Long & Foster Real Estate. Though inventory continues to contract throughout the suburban Maryland region, the sale price versus list price and low days on market all point towards a healthy market.  
Discussing how the National Association of Realtors passed a rule to ban pocket listings, Foster said he believes that it's a pro-consumer move that will be beneficial to all. The new ruling says that once a home has been marketed to the public, it needs to get put on a multiple listing service within 24 hours. This will enable buyers to have a full picture of what is on the market so they can make more informed decisions on where to buy and live. For sellers, it will allow them to expose their property to potential prospects and increase the amount of demand for their home.  
Speaking on the current impeachment proceedings, Foster does not think that it will have any effect on the real estate market. The things that people recognize and cause volatility in consumer confidence is turmoil in the world economy, such as the trade war with China or Brexit. The impeachment hearings should not affect consumer confidence in any way. 
The upcoming election year should have a slight impact on consumer confidence, as it does every election year. The first three quarters of the years are expected to be strong, though consumer confidence will dip slightly in October as the unknown of who will be elected causes uncertainty. It is expected to spike back up again after the election, regardless of who gets elected, Foster explained.  
To learn more about your local market conditions, visit Long & Foster's Market Insights. You can also learn more about Long & Foster and find an agent at LongandFoster.com.