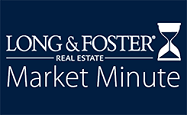 The Northern Virginia region saw an increase in the number of units sold in July, according to the Long & Foster Real Estate Market Minute Report. The increases ranged from 3% in Arlington County and Fairfax County to 15% in Alexandria City. Median sale prices also rose across the region, with Alexandria City displaying the largest incline with a 27% rise. Inventory varied with Arlington County having a 38% increase, while Prince William County had a 63% decrease.
The Long & Foster Real Estate Market Minute report for Northern Virginia includes the city of Alexandria, and Arlington, Fairfax, Loudoun and Prince William counties.
"Homes are coming on and off the market very quickly in Northern Virginia," said Larry "Boomer" Foster, president of Long & Foster Real Estate. The demand for homes continues to be incredibly high, while purchasing power remains strong.
The housing market has recovered remarkably despite the current economy and Foster anticipates that continuing through the end of summer and into fall. The average fixed rates remain historically low and the risk of a foreclosure crisis is unlikely, due to most people having significant equity in their homes.
"There has been a flight from the urban core to the suburbs and exburbs," Foster said. With a higher percentage of people working from home, having a space that is larger and farther from others provides a sense of safety and privacy that city life does not. This is also evident in the emerging trend of people heading to vacation rentals for extended periods of time to get a change of scenery.
While cities are still experiencing a population decrease, this is not expected to last forever. In the short term, suburban areas are expected to benefit more as people long for extra space. However urban areas offer conveniences, such as proximity to shopping, the arts and many entertainment options that are sure to lure people back in once the pandemic has ended.
To learn more about your local market conditions, visit Long & Foster's Market Insights. You can also learn more about Long & Foster and find an agent at LongandFoster.com.