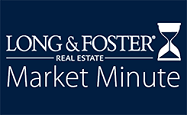 The number of homes sold decreased in most of the Winchester region last month, according to the Long & Foster Real Estate Market Minute report. Besides Frederick County, which saw an 11% increase, units sold decreases ranged from 8% to 42%. Inventory saw some decreases with Winchester City showing the largest fall of 18%, while Frederick County had an increase of 11%. Half of the region had minor year-over-year increases in median home prices. 
The Long & Foster Real Estate Market Minute report for the region includes Frederick, Shenandoah and Warren counties, and the city of Winchester.


"The market isn't really surprising in the Winchester region right now," said Larry "Boomer" Foster, president of Long & Foster Real Estate, "there are plenty of people buying right now and there's plenty of demand, we're just lacking quality inventory." 
Units sold are down in many places because there's not enough good inventory on the market while the demand is huge, though in some areas there are outliers, where there's room to build. Foster said, "If builders are able to put together a decent product, they'll be able to sell it and sell it quickly." There's lots of demand and people looking to buy, it's just whether or not there's product available or sellers will do what is necessary to get their house ready to be shown and price it appropriately. 
With all the news of limited supply, it's a great time to list your home. For those that are worried about timing of the market or their sale lining up with their ability to move elsewhere, Foster advised that, "From an inventory perspective, many sellers can dictate to buyers the terms of closing." For sellers who are in geographic and pricing sweet spot, buyers will be willing to work with the seller, he said.  
Foster addressed the low interest rate environment, saying that he's surprised since "most people thought going through this year that we would see it grind higher slowly throughout the year." However, once you take into account the volatility of the world economy, it's not that surprising, he said. Foster explained that "foreign investors are flocking to treasuries as a safe haven to park their money, causing the 10-year Treasury bond and the 30-year fixed rates to be held down." 
To learn more about your local market conditions, visit Long & Foster's Market Insights. You can also learn more about Long & Foster and find an agent at LongandFoster.com.