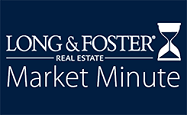 Home sale prices ticked upward throughout the Winchester region in November, according to the Long & Foster Real Estate Market Minute Report. Both Warren County and Winchester City had increases of 20%, followed by Shenandoah County with an 8% boost. Units sold also rose over most of the region, with Shenandoah County having the most significant rise of 59%, though Winchester City saw an 11% decline. Inventory fell again this month and days on market remained low, with homes selling in 23 to 32 days.  
The Long & Foster Real Estate Market Minute report for the region includes Frederick, Shenandoah and Warren counties, and the City of Winchester. 

"The numbers this month are shocking," said Larry "Boomer" Foster, president of Long & Foster Real Estate. "It was a very big November, with double digit gains in units sold and median sale prices." This rise in homes sold is a continuation of the delayed spring market, where low interest rates incentivized consumers to continue buying homes in record numbers.
Technology has come to the forefront of many industries this year, since doing business virtually has become a necessity. This is evident in the real estate business, where technology, such as virtual reality and artificial intelligence, has made transactions easier and more efficient. Foster believes this rise in technology will not be permanent, saying "real estate is a relationship building business. While technology has given us another medium to foster relationships, it can't replace face-to-face interaction".
The impact of technology has also led to an increase in cybercrimes, with phishing scams and wire fraud becoming common ways for cyber criminals to cheat unwitting consumers out of their personal information or finances. Foster recommends being extremely cautious when doing business online, citing emails and text messages as ways for cyber criminals to trick individuals to divulging sensitive information. "Always be cautious of clicking on links and never take wiring instructions from an email. Verify who the sender is by double-checking the sender's address or giving them a call," Foster said, "you can never be too cautious".
To learn more about your local market conditions, visit Long & Foster's Market Insights. You can also learn more about Long & Foster and find an agent at LongandFoster.com.