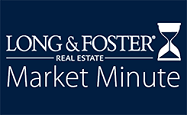 The Charlottesville area saw an uptick in year-over-year median sale prices in October, according to the Long & Foster Real Estate Market Minute Report. Buckingham County had a dramatic 164% jump, followed by Albemarle County with a 24% rise. The number of homes sold also saw significant increases, aside from the City of Charlottesville, which saw no change. Inventory continued to fall while days on market ranged from 30 to 152.
The Long & Foster Real Estate's Market Minute report for the Charlottesville region includes the City of Charlottesville and Albemarle, Buckingham, Nelson, Fluvanna and Greene counties. 

"Home prices are appreciating and units sold are up dramatically," said Larry "Boomer" Foster, president of Long & Foster Real Estate. Demand for homes is still exceptionally high, with the large number of homes going on the market being sold too quickly to satisfy demand.
With talks of a potential COVID-19 vaccine becoming more promising, Foster believes that the economy will be affected in a positive way. "As people start to get more optimistic about the economy, the ones who put their money into treasury bonds, will start moving it into equities," Foster said. Should this happen, the yield on treasury bonds and the 30-year fixed rate will rise, marking a healthier economy.
Even with the Federal Housing Agency allowing Freddie Mac and Fannie Mae to continue to buy qualified loans in forbearance, Foster does not believe this will affect the housing market negatively. "I'm not worried about forbearance, as the number of homes in forbearance continue to shrink every month and negative equity in homes is low," Foster said.
Foster expects the trends that have cropped up in response to the pandemic, such as touchless appliances, home offices and home gyms, to stay relevant, citing numerous companies keeping many positions remote. As people continue to have high productivity while working from home, employers will continue to allow employees to remain remote, making the need for these home trends to stay. "If employers can do with less space, they can save money on smaller workplaces and if employees can work from home without losing productivity, it's a win-win for everybody," Foster explained.
To learn more about your local market conditions, visit Long & Foster's Market Insights. You can also learn more about Long & Foster and find an agent at LongandFoster.com.