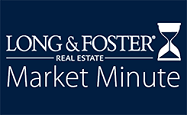 Median sale prices and units sold increased in parts of Virginia's Eastern Shore real estate market in July, according to the Long & Foster Real Estate Market Minute report. In Northampton County, the median sale price rose by 13%, but declined by 12% in Accomack County. Home sales rose by 8% in Accomack County, while Northampton County experienced a 13% decline compared to July 2018. Inventory also declined in the region, dropping by 22% in Northampton County and 17% in Accomack County.  
The Long & Foster Real Estate Market Minute report for Virginia's Eastern Shore region includes Accomack and Northampton counties.



"One item to note about this market is the healthy level of increases in home values," said Gary Scott, president of Long & Foster Real Estate. "Homeowners are experiencing 2% to 6% appreciation in 80% of the nation's markets."  
In our volatile stock market environment, and with mortgage interest rates declining, Scott commented he is bullish on the purchase of homes – including investment properties and second homes. "If you are thinking about diversifying and putting some of your money in the real estate market, now is the time, while interest rates are so low," he added. 
For those homeowners who are contemplating selling, we asked Scott for his opinion on the best time to sell a home. "From Labor Day to Thanksgiving, the market is fairly active. There are also quite a few buyers in December, who are not just looking, but are motivated to buy," said Scott. "But the best time to list your home depends on your personal needs – whenever the time is best for you, your family, and your job." 
With fewer homes on the market and increased competition for affordable homes, Scott provided advice for the best way to find a home now. "First, engage the help of a real estate professional who is attuned to the market, and don't rely on digital data alone, as it is not always accurate, nor up-to-date," said Scott. "Have your financing in order and be ready to buy, because there will be five other people in line to buy the home." 
Working with a knowledgeable real estate agent can help you navigate the complexities of this market, whether you are selling or buying a home.  
To learn more about your local market conditions, visit Long & Foster's Market Insights. You can also learn more about Long & Foster and find an agent at LongandFoster.com.