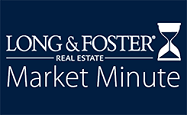 Median sale prices grew in Virginia's Eastern Shore real estate market in January, according to the Long & Foster Real Estate Market Minute report. The median sale price rose by 11 percent in Northampton County and by 10 percent in Accomack County. Home sales saw a significant gain in Northampton County with a 71 percent increase, while Accomack County experienced a 16 percent decline. Inventory fell in the region, dropping by 32 percent in Northampton County when compared to January 2018.
The Long & Foster Real Estate Market Minute report for Virginia Eastern Shore region includes Accomack and Northampton counties.

Lately, industry headlines have been touting increasing inventory of homes for sale, but they don't tell the whole story, said Gary Scott, president of Long & Foster Real Estate. When broken down by geographic area or price point, consumers may see a very different picture.
"Inventory is up, but that's not true for every part of the country – as we can see in the Eastern Shore of Virginia – and much of the new inventory is priced at the higher end of the market," Scott said. "Every area has its own unique factors, which is why it's so critical to work with a hyperlocal expert who can help peel back the layers of information."
He said while builders want to create more entry-level housing they're in a difficult spot.
"We all know we need to deliver new housing at an affordable level, but the cost of land, the cost of labor and the cost of supplies are a problem," Scott said. "Those variables we don't have control over are putting us in a place where building lower cost homes is hard to do."
In the last months of 2018, real estate industry experts were predicting rising mortgage rates for this year. Instead they've remained low, causing many to revise their projections.
"There are two things that motivate people when it comes to interest rates," Scott said. "One is low interest rates rising, and the other is trending upward decline. Back when mortgage rates were 3.25 percent and trending downward, people were holding off on buying because they thought rates were going to go under 3. The minute they rose to 3.5 people jumped to lock in their rate."
"The stock market has also leveled to some degree, and the more that stabilizes the better off we'll be," Scott said.
To learn more about your local market conditions, visit Long & Foster's Market Insights. You can also learn more about Long & Foster and find an agent at LongandFoster.com.