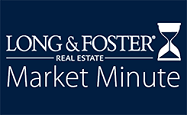 Median home prices increased in all suburban Maryland counties last month with the exception of Frederick County, which showed a 5 percent decline, according to the latest Long & Foster Real Estate Market Minute report. The number of homes for sale decreased in most areas of the region, with Charles County seeing the steepest decline at 16 percent and Frederick County experiencing a modest 1 percent increase compared to a year ago.
The Long & Foster Real Estate Market Minute report for the suburban Maryland region includes Charles, Frederick, Montgomery and Prince George's counties.

"When it comes to declining inventory, it's been the same story for the past 36 months. In the last three months, the low inventory has been a drag on unit sales in the market, including in the Suburban Maryland region," said Larry "Boomer" Foster, president of Long & Foster Real Estate. "With interest rates so low, there are still opportunities to buy, but it may take more time to find them."
Some of those opportunities require vision, Foster said. Most buyers are seeking the move-in ready homes that sell quickly, but there are many homes that sit on the market much longer, often because they aren't updated. Being open to those properties can help buyers create a home that fits their needs and tastes.
"It helps to be aware and do your homework – being an informed buyer is very important right now," Foster said. "Often consumers don't know that there are construction and renovation loan options that roll the cost of renovating a home into the mortgage loan. This is why it's so important to have a knowledgeable, professional real estate agent, like those at Long & Foster, representing you on the biggest investment you'll ever make."
For home sellers, it's important that they base their list price on the actual sale price of comparable homes in their neighborhood. Foster said if buyers don't feel the features and benefits of the home justify the list price, it won't sell.
"People worry that they're going to price their home too low, but if a home is underpriced, it will receive multiple offers that push the price up to what the market will bear," Foster said. "Most consumers don't sell homes very frequently, which can make it hard to understand the importance of pricing, but good agents do it every day. Trust their opinions and recommendations."
To learn more about your local market conditions, visit Long & Foster's Market Insights. You can also learn more about Long & Foster and find an agent at LongandFoster.com.