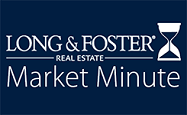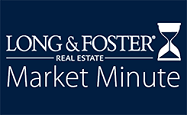 The greater Baltimore region real estate market experienced a number of positive trends in November, including rising median sale prices in a few areas. Overall, it was a good month for many of Long & Foster's markets, according to the Long & Foster Market Minute reports. The Baltimore region includes Baltimore, Anne Arundel, Carroll, Howard and Harford counties and the city of Baltimore.

Home sales increased in most of the Baltimore region last month, with Baltimore City experiencing a 5 percent increase in the number of units sold. Median sale prices rose by 21 percent in Carroll County, followed by a 13 percent increase in Anne Arundel County and a 4 percent increase in Baltimore County.
"November was a very healthy month for home sales, and in many of our markets we're continuing to see healthy price appreciation," said Gary Scott, president of Long & Foster Real Estate. "There will always be areas where there are outliers though, and that's why it's so important to know what's happening in your hyperlocal market. What may be true of homes selling on one street could be very different from what's happening on the next street over."
Active inventory continued to fall throughout the Baltimore area, though the decreases were not as large as those seen in November 2016. Carroll County saw the largest active inventory decline at 22 percent, and it fell by 21 percent in Harford County. Homes in the region sold in about six to eight weeks on average.
Scott said the lack of inventory is not going to go away in the foreseeable future, and is most challenging for first-time homebuyers. He said first-time homebuyers in fast-moving markets need to make sure they're ready to buy when they find a home they like.
"First-time homebuyers often don't have as many funds available for a down payment," Scott said. "In scenarios where multiple offers are being made on a property, those who are selling a home to purchase a new one have the advantage of recent years of price appreciation that provides them a larger down payment."
"If a first-time homebuyer isn't ready to make the purchase someone else will be," Scott said. "They can't get caught up in the conundrum of searching. They may be looking for a home with shiny new features that simply isn't available at their price point."
It's also important for homeowners and homebuyers at all levels to remain aware of what happens in terms of taxes, Scott said.
"It will have an impact on homeownership, we just don't know what, when and how long it will take. It's probably a lot more bark than bite, but uncertainty creates fear," Scott said. "Something to keep in mind though, is that homeownership hasn't always been an economic decision where the goal is a tax write off. We can't forget that, for many, owning a home is also emotional – it's a way to have a place of one's own to create memories and have the quality of life they want."
The Long & Foster Market Minute is an overview of market statistics based on residential real estate transactions for more than 500 local areas and neighborhoods and over 100 counties in eight states. The easy-to-read, easy-to-share reports include information about each area's units sold, active inventory, median sale prices, list to sold price ratio, days on market and more.
Information included in this report is based on data supplied by Metropolitan Regional Information System and its member associations of Realtors, which are not responsible for its accuracy. The reports include residential real estate transactions within specific geographic regions, not just Long & Foster sales, and they do not reflect all activity in the marketplace. Information contained in this report is deemed reliable but not guaranteed, should be independently verified, and does not constitute an opinion of MRIS or Long & Foster Real Estate.