Fonville Morisey Realty participated in the American Heart Association's Triangle Heart Walk on Sunday, October 1 at PNC Arena in Raleigh. Sales associates and employees, along with their family, friends and clients, donated over $4,300 to help fight heart disease and stroke.
Heart disease is the number one cause of death in the United States and it has impacted many in the Fonville Morisey family. A company wide t-shirt design contest was held to inspire participation with the winning design challenging everyone to "Eclipse Heart Disease."
"This year's winning t-shirt design was inspired by the recent total solar eclipse when the sun's light was blocked by the moon," said Rod Eller, senior vice president. "Our goal is to block out heart disease by partnering with the American Heart Association. FM cares for those affected by heart disease and we proudly offer our support to make an impact through research, education, and emergency care."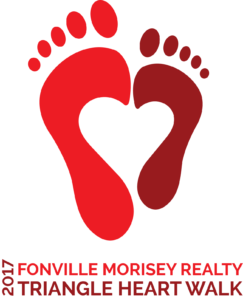 About Fonville Morisey Realty
Fonville Morisey Realty has 11 sales offices, with over 850 associates and employees throughout the Greater Triangle region. Fonville Morisey offers mortgage, insurance, property management, title services, real estate education courses and relocation services through its divisions and partners. For more information about Fonville Morisey Realty, visit www.fmrealty.com.