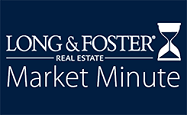 CHANTILLY, Va., Jan. 22, 2018 – The number of homes for sale in the Charlottesville region continued on a downward trend last month, prompting home prices to rise across most of the region, according to the Long & Foster Market Minute report. Both Albemarle and Nelson counties saw median sale price increase by 13 percent. There were several notable increases in units sold, including an 80 percent jump in Nelson County and a 50 percent increase in Buckingham County.  
Long & Foster Real Estate's Market Minute report for the Charlottesville region includes the City of Charlottesville and Albemarle, Buckingham, Nelson, Fluvanna and Greene counties.  
"In most places, inventory is still contracting at a really fast clip," said Larry "Boomer" Foster, president of Long & Foster Real Estate. "Price appreciation is moderate to flat, but it's still hyperlocal – some neighborhoods are their own little market where there's a melting pot of different things happening. I don't think there's any doubt this year that you'll see a softening in higher-priced homes."  
While there's a consensus in the industry that mortgage interest rates will be climbing in 2019, for the last few weeks they have been down. Foster attributes that to volatility in the stock market and in the world economy.  
"Foreign and domestic investors are putting a ton of money into the 10-year treasury bonds causing the yield on the 10-year treasury bonds to go down, which in turn causes the 30-year fixed rates to go down," Foster said. "If the government shutdown, Brexit talk and trade wars with China continue, we'll see a lot of people fleeing to the security of bonds, which will keep interest rates artificially low."  
Consumer sentiment about the economy remains high despite the volatility of the markets. One of the biggest indicators of a strong real estate market is high consumer sentiment, because when people are confident they buy and sell homes, Foster said.  
"The complexities of our market conditions are what make it crucial to work with a professional, knowledgeable real estate professional," Foster said. "While the bigger trends help us understand the health of the market, home buyers and sellers can benefit most from an expert with knowledge of individual neighborhoods, like those at Long & Foster Real Estate." 
To learn more about your local market conditions, visit Long & Foster's Market Insights. You can also learn more about Long & Foster and find an agent at LongandFoster.com.