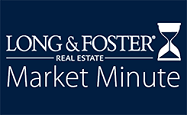 Median sale prices rose in areas of the Charlottesville region in April, according to the Long & Foster Market Minute report. Buckingham County had the largest increase with a 50% jump, followed by Fluvanna County with an 8% increase. Home sales declined in much of the region except for Greene County, which increased by 26%, and Nelson County, which had no year-over-year change. Inventory took a fall throughout Charlottesville, with Buckingham County showing the biggest decrease of 38%.  
Long & Foster Real Estate's Market Minute report for the Charlottesville region includes the City of Charlottesville and Albemarle, Buckingham, Nelson, Fluvanna and Greene counties.


The April market in Charlottesville was good according to Larry "Boomer" Foster, president of Long & Foster Real Estate. "We've got ample demand, there's plenty of credit for people to get and we're not artificially running prices up," he said. The only difficulty in the market is the lack of product to sell.  
There are many reasons as to the shortage of inventory: a lot of baby boomers are aging in place, people who bought or refinanced homes when interest rates were at an all-time low don't want to move away from that rate and builders are not providing product consumers want.  
When discussing the tariffs imposed upon Chinese imports, Foster noted they're causing a squeeze on builders' margins. "When you combine an increase in material costs with an increase in wages for skilled workers, plus land appreciating, there's downward pressure on builder's margins," he said. Builders are then offsetting these margins by building bigger homes, as opposed to the entry-level homes consumers are looking to buy. 
With interest rates so low consumers have more buying power, meaning more can get qualified to buy. With the current economic environment Foster anticipates the interest rates to continue to be low as "domestic and foreign money get parked in U.S. Treasury bonds, keeping the yields on bonds and 30-year fixed rates down." 
For those looking at purchasing new construction homes, it is important to work with a real estate agent. "The process is different, and you need somebody who'll walk you through financing," Foster said. "The contracts are written in favor of the builder so having someone well-versed in the process is essential. Typically, builders will charge premium prices for builder-grade finishes and fixtures, so knowing what to spend money on and what's important in a home will make sure you're getting the best value."  
To learn more about your local market conditions, visit Long & Foster's Market Insights. You can also learn more about Long & Foster and find an agent at LongandFoster.com.