Each year, home builders from around the world gather for the International Builders Show (IBSx)—an opportunity to network, learn and get inspired on the latest in new home construction. This year's event went virtual, but it didn't limit the design ideas on display, including those at the New American Home and the New American Remodel.
These showhouses inspire architects, builders, contractors and interior designers with their new technology, improved energy efficiency and design trends. The designs for both homes were tweaked as the Covid-19 pandemic occurred during their construction periods, and the result is eight new home design trends.
Bring the outdoors in, with more than plants. The New American Home and the New American Remodel include wood accents and organic materials to provide a sense of nature indoors. Both homes feature modern staircases with warm wood steps. The New American Home includes rustic accent walls, and the New American Remodel features an organic wood pedestal sink in one of the bathrooms.
More natural light, please. Both homes feature retractable glass doors and floor-to-ceiling windows in as many locations as possible. Clerestory windows add light to the kitchen and primary bathroom in the New American Home, while windows were enlarged wherever possible in the New American Remodel.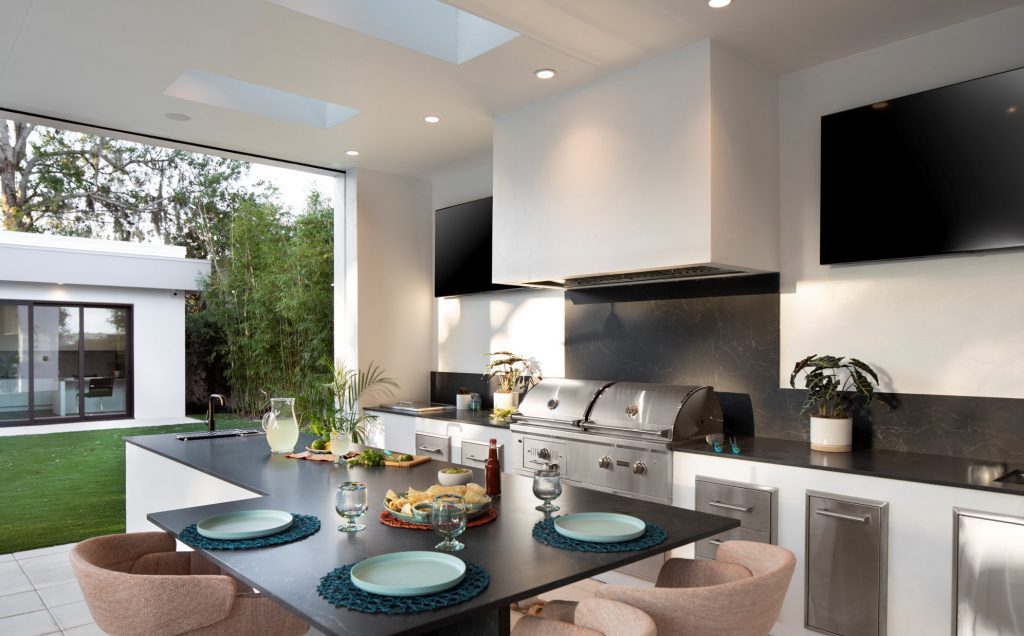 An emphasis on every inch of outdoor space. The private backyard at the New American Remodel was redesigned to include a covered outdoor kitchen and dining area, a play area with an artificial turf, a swimming pool, a hot tub, a splash pad, a small beach for kids and a patio with a pergola with a louvered ceiling that can be closed to protect from sun and rain.
The New American Home's upper terrace includes an outdoor kitchen, a dining area and entertaining space. The second level has a smaller terrace accessible from a central lounge area and the lower level has enclosed space in the front and side of the home near a "dog room" with space to store leashes, food and other supplies.
Mix light and dark tones for an on-trend kitchen. The New American Home's kitchen includes a walnut and glass china cabinet, warm wood floors and quartz counters with sleek wood cabinets overhead. The use of wood warms up the otherwise contemporary space. In the New American Remodel, the kitchen features dark monochromatic cabinets offset by light quartz counters for a modern look. Both kitchens are a departure from the gray and white kitchens seen in many new homes in recent years.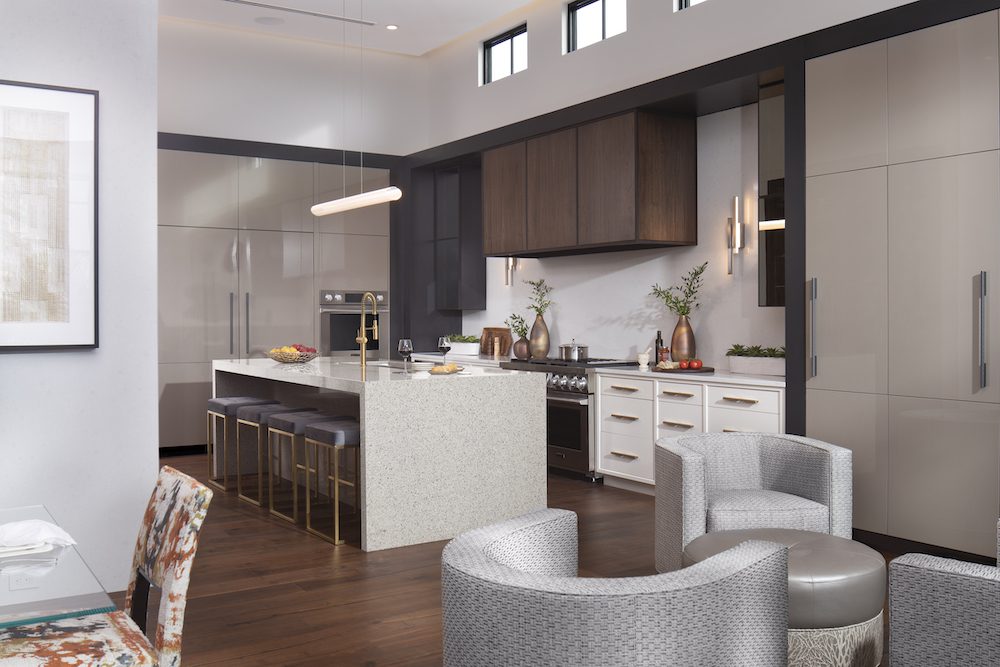 Focus on resident and planetary wellness. Both homes this year include filtration and ventilation systems for the crucial exchange of fresh air that provides better indoor air quality. Both are also designed to achieve net zero status, which means that solar panels may produce enough energy to run the extremely energy-efficient house.
Create office space wherever possible. Remote employment suddenly made a place to work as essential as a place to sleep in every home. In the New American Home, a first-floor bedroom was converted to a home office with an adjacent full bathroom. Nearby, a mini-kitchen functions as a breakfast bar in the morning, a snack site while working and a bar for entertaining. In addition, an office nook was designed into the primary bedroom in this home.
At the New American Remodel, a narrow freestanding cabana house adjacent to the main house features a kitchen, a family room, a yoga room, an office, a bedroom and two small bathrooms. The cabana can function as a home office or a guest house.
Wine is for more than drinking. Homeowners often recognize that wine bottles and their labels can be as intriguing as artwork. Wine storage for both houses features pegs that hold bottles along a wall, so the label faces forward. In the New American Home, the wine bottles are part of a wet bar near the dining area.
High-tech screens for low-tech benefits. Retractable glass doors have become more popular in recent years in all climates, allowing indoor and outdoor spaces to seamlessly connect. Retractable screens add a practical element to those open doors and can be installed on windows, too. The screens provide solar shading and protection from insects, and they can be programmed to open or close, depending on the time of day and season.
Which of these trends would you incorporate into your home? Share your thoughts with us in the comments.