With COVID-19 and most of us working from home, we've all become more attached to our dogs – if that's possible. Having a place to gather with others outside at a safe distance and with a place for our furry family members to frolic with other dogs has become very important.
For ten years, agent Robin Madron of Long & Foster Real Estate's Harbour Pointe office in Midlothian, Virginia took her dogs to meet neighbors in a rarely used, fenced-in local high school baseball field. "It was a great place for dogs to run and play and for their owners to socialize," said Madron.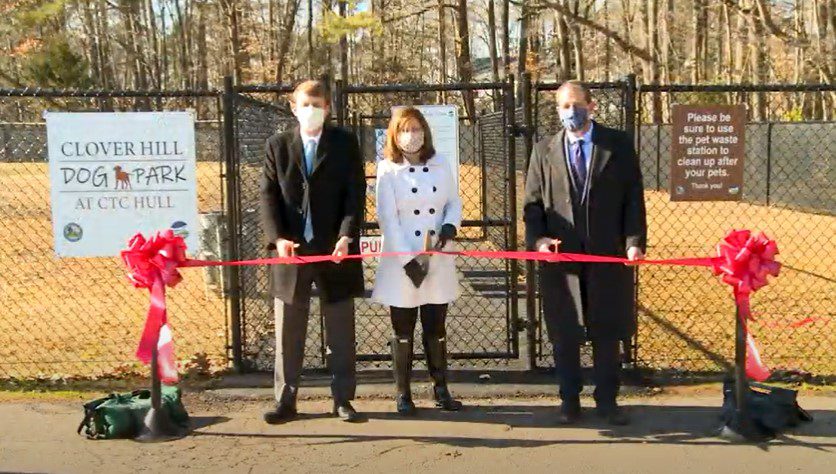 Although the dog owners did not use the field when there was a baseball game, they were banned from the field about a year and a half ago. With the nearest dog park about 30 minutes away, the group got together and discussed plans to work with the county to open a community dog park. The dog owners' enthusiasm quickly waned with no one coming forward to help Madron with the initiative. However, that didn't stop her from taking action.
Madron first went to the Chesterfield County Board of Supervisors to make her plea. They referred her to the Chesterfield County Parks & Recreation Department, who in turn explained to Madron that county funds were being used toward an existing pickleball court, so no resources were available for a dog park. Determined to find a way to get funding for a dog park, she attended every Parks and Recreation Department meeting for the next six months. Even though, she was repeatedly told there were no funds available, she continued to attend the meetings.
When the pandemic hit last year, all funds ceased coming into the county, including the Parks and Recreation Department. However, Madron continued to attend their meetings. Finally, last year, Madron's efforts and persistence paid off – the Parks and Recreation Department found some discretionary funds for a dog park.
On January 28, 2021, in a grand opening ceremony, the new dog park opened. "I thought it was going to be a really small park, but it's gorgeous, and bigger and better than I expected," said Madron. "It's been nice to reunite with the group of people who go there. It's just one more thing for our community. As a realtor, I'm very aware that the more amenities you have for your community, the more people want to live there."
Madron's next project is to raise funds for ground cover and drainage for the park so it is not so muddy after it rains. The county has indicated that they will contribute funds for part of the drainage and ground cover cost if Madron also raises some funds. Her innovation, motivation and detail-oriented nature has showcased what a wonderful asset Madron is for the community, as well as her talents as a real estate agent.
To view a video of the dog park grand opening, click here.
To learn more about Madron, visit longandfoster.com/RobinMadron.
This is the fifth blog post in our Long & Foster agent profile series. If you're a Long & Foster Real Estate agent and would like to be considered for a future article, email media@longandfoster.com.